'Overwatch' D.Va Cinematic Short Update: Voice actress denies production of new story material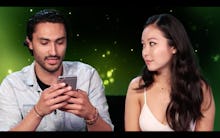 All D.Va fans gasped unanimously Monday when D.Va voice actress Charlet Chung tweeted a picture of herself at Blizzard HQ, hinting at a reveal on Friday.
Fans speculated that this had to be a cinematic short for D.Va, something that every Overwatch fan would love. However, in a livestream with Jonny Cruz, who voices Lucio, Chung went on record saying that it was not going to be a cinematic. "I don't even have the authority to even be able to make such an announcement," she reminded fans in the stream.
So if it's not a short, what could it be? Let's do some speculating.
Overwatch D.Va cinematic: We have a few guesses at what the reveal could be
In the same livestream, Chung said that two reveals are happening. It's unknown at this point whether those reveals will be related to one another or not.
The first option — one that seems like an appropriate reveal for a voice actress to make — is that D.Va will be getting a Nendoroid figure. Currently Tracer is the only character to have a Nendoroid available, though Mei's is currently available for pre-order. D.Va would make a pretty great Nendoroid, especially if it looked like the fan art mockup below.
Fans also speculated that, instead of a D.Va short, we might be getting a D.Va comic — but Chung looks to be shutting down that rumor, as well. In the below response to a fan on Twitter, she essentially told a fan "wrong" (only in emoji-speak):
Another option is that D.Va will get a short, but not just by herself — or perhaps she's not the lead. In the Jonny Cruz livestream, she "misspoke" at one point and said "our reveal" before quickly correcting herself to say "my reveal." So, it's possible that something bigger is being revealed with multiple characters — something like a cinematic, perhaps?
We'll find out Friday!
More Overwatch news and updates
For more on Overwatch, check out the rest of what Mic has to offer. Here is an intro to the cute, new "Wholesome Overwatch" subreddit, a look at some gorgeous Overwatch-themed PS4 and Xbox One controllers, a cool Easter Egg in the new Horizon Lunar Colony map and a criticism of Blizzard's failures in its design of Symmetra.