Jon Ossoff's loss has some Democrats asking: Is it time for Nancy Pelosi to go?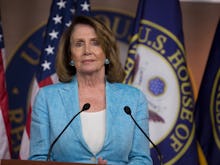 Democrat Jon Ossoff lost a highly contested special election in Georgia's 6th District Tuesday night, dashing the party's hopes of notching their first electoral win since President Donald Trump's election.
And while experts say the demoralizing loss isn't necessarily a harbinger of more losses to come in the 2018 midterms, it has Democrats taking stock and asking whether it's time for new party leadership — specifically whether House Minority Leader Nancy Pelosi should step aside.
"We need to have that discussion," Rep. Seth Moulton, a 38-year-old Democrat and Iraq War veteran from Massachusetts, told NBC News of whether Pelosi should stick around. "We clearly need to have the right message and the right messengers to show the American people that we can help and that we have a vision, that we have a plan."
Republicans have spent eight years and tens of millions of dollars attacking Pelosi and making her a toxic figure among voters.
And Republicans capitalized on that in their race against Ossoff in this historically Republican district, running ads tying him to Pelosi in the hopes it would motivate the GOP base to turn out.
Rep. Tim Ryan, an Ohio Democrat who unsuccessfully challenged Pelosi for speaker, told the New York Times that Pelosi's toxicity among the electorate is a "problem."
"They're still running against her and still winning races, and it's still a problem," Ryan said.
And at least one Democratic House candidate is also calling on Pelosi to step aside, tweeting Wednesday morning that he would not vote for Pelosi for speaker if he was elected.
"The Democratic Party needs new leadership now," Joe Cunningham, who is running in South Carolina's 1st District to try and oust GOP Rep. Mark Sanford, tweeted. "If elected, I will not vote for Nancy Pelosi for speaker. Time to move forward and win again."
Pelosi's staff fought back against the calls for new leadership.
"Right, let's abandon the party's best $ raiser & consensus builder cause Rs don't like a Democratic woman that gets things done," Drew Hammill, Pelosi's deputy chief of staff, sarcastically tweeted Tuesday night.
But that argument isn't likely to squelch the chatter about Pelosi's future leading the House Democratic caucus.
"If we as Dems want to win elections, we need new leaders and new faces," one Democratic operative told Mic.