Grenfell Tower Fire: Theresa May apologizes for government response in Parliament speech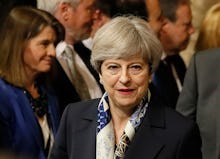 In an address before Parliament, U.K. Prime Minister Theresa May on Wednesday took responsibility for the government's poor response to the deadly Grenfell Tower fire.
"Let me be absolutely clear," May said in her speech, according to Guardian reporter Peter Walker. "The support on the ground for families in the initial hours was not good enough. People were left without belongings, without roofs over their heads, without even basic information about what had happened, what they should do, and where they should seek help."
May spoke before Parliament following Queen Elizabeth II's Queen's Speech, a traditional address laying out the government's intentions before a new session of the U.K. Parliament begins.
"That was a failure of the state, local and national, to help people when they needed it most," May said during her remarks. "As prime minister, I apologize for that failure, and as prime minister I've taken responsibility for doing what we can to put things right."
May and her Conservative Party peers were widely criticized following the Grenfell Tower fire, which many believe could have been prevented had the local council listened to residents' concerns.
The prime minister was particularly criticized in the immediate wake of the tragedy for refusing to visit the fire's victims. May's leadership has been in question since the Conservative Party's underwhelming results in the country's recent general election.
Seventy-nine people are currently presumed dead or missing following the deadly blaze, which took place in a social housing building in the London borough of Kensington.