Colorado gun rights group paying for teachers to arm themselves in classrooms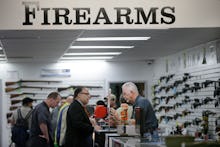 Keeping students safe has brought these teachers to the gun range.
Seventeen Colorado educators have undertaken the Faculty/Administrator Safety Training & Emergency Response program, which trains teachers on firearm use to turn them into first-line responders in the case of a school emergency. Bankrolling the teacher's FASTER course is Coloradans for Civil Liberties, a group whose slogan reads "Restoring Freedom One Round at a Time."
Colorado law bans firearms on K-12 campuses except for those possessed by security personnel. Teachers involved in the program must first be designated as security personnel by school boards before they are allowed to open carry. Laura Carno, founder of the Coloradans for Civil Liberties, says schools are clamoring for this kind of training, especially in rural areas where first responders can take 30 to 45 minutes to arrive.
Carno says she was determined to bring the program to Colorado after going through a training in Ohio.
"I came back a changed person after meeting school staff who said things like, 'I would put my body between bullets and kids, and I just want a chance to survive so I can save the kids,'" Carno said, adding that she was in "awe" of others in her class. Now, through private donations that CCL receives, she is bringing the curriculum to others in Colorado.
According to Carno, most teachers undergoing training come from rural districts where first responders can take 30 to 45 minutes to arrive. Aside from shooting skills, teachers also receive emergency medical training and "mindset" training on how to navigate high-adrenaline situations.
But opponents of CCL and the FASTER program contend that the initiative to arm teachers misses the mark in a few key ways.
Tom Mauser, father of 1999 Columbine shooting victim Daniel Mauser and a spokesman for Colorado Ceasefire, said that the training these teachers receive isn't adequate to stop an active shooter situation.
"Shooting at a target is a heck of a lot different than an active shooter situation, where they're moving, where there are students around," Mauser said. "They're not getting that level of training."
Mauser also said that a teacher with a gun introduces too many variables into an already-fraught situation. The presence of a second gun, Mauser asserted, could escalate the situation and leave children more vulnerable; a second gun also increases the risk of crossfire.
Ken Toltz, the founder of Safe Campus Colorado, said in a phone interview that the move to arm teachers is a way to get around current Colorado law that bans non-security personnel from concealed carry on K-12 campuses in the state.
"It's not about school safety, it's a political agenda," Toltz said.
Colorado's gun-toting teacher initiative mirrors a larger political agenda that leads all the way up to President Donald Trump, Toltz asserted. During the campaign, Trump — an open, fervent ally of the National Rifle Association — vowed to eliminate gun-free zones, calling them "bait for sickos."
Toltz said CCL has worked without much input from local school boards, but Carno says each of the 17 people currently in the program have been designated as security personnel by their school boards. According to KUSA, all but one of the teachers chose to keep their identities private to prevent the public from knowing which teachers at a school may be armed.
That designation and their participation in the FASTER program shows that there is school support, she contended. Those who are uncomfortable with teachers having concealed weapons, she says, should voice concerns to their school boards.
Schools should look at a variety of options on how to keep students safe, Carno said. She noted that the teachers currently enrolled in the FASTER program show there is demand for armed teaching professionals. According to Carno, having an armed teacher in the classroom is like having a fire extinguisher in the room in case of emergency.
"If a bad guy gets in, what are your choices?" she said. "Do you want someone there who can stop the bad guy while you call the sheriff's office?"
But Mauser contends that teachers should be teachers.
"The many many hours it would take to be [trained to act as] a police officer, that's not what our teachers should be doing," Mauser said. "It's a sad day when we get to the point that we have teachers that are armed."