Road Test: The best carry-on travel suitcases under $300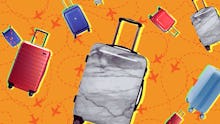 There's a certain badge of honor earned every time you pack all your things into a suitcase that fits into an airplane's overhead compartment — whether you're going on a trip for four days or 14. The smaller the bag, the bigger your bragging rights.
Opting for carry-on luggage over checked can significantly cut down the amount of time you spend in the airport and help you avoid fees. Plus, it forces you to think about packing necessities only. There's a magic in traveling light —the right suitcase goes a long way in alleviating airport stress.
We asked Mic staffers to put several carry-on suitcases — every single one $300 or less — to the test, some of which were shoved down subway stairs while others were packed to the brim with frozen meat (a story for another day). For various reasons, the selection below were the highest rated. Here's what we loved.
Price: $125
Weight: 6.85 pounds
Bells and whistles: Eight 360-degree spinner wheels, an expandable section and zippered dividers and pockets
What the tester thought: Calpak is every Instagrammer's dream — it's sleek, compact and hands-down the most photogenic suitcase we tested. In addition to its eye-catching design and affordable price, Calpak navigates both cracked sidewalks and smooth floors well. This thing glides like a skater on ice, probably because of its eight wheels.
The suitcase comes with a built-in lock and the clamshell-style compartments help with organized packing, so I could split my dirty laundry and shoes to keep my other items from getting sullied. Another bonus: The suitcase handles are padded, which makes for much easier lifting — no hard plastic to pinch my palm when lugging the bag into the overhead compartment.
Price: $225
Weight: 7 pounds
Bells and whistles: A built-in battery for charging two devices at once and a bag for your dirty laundry
What the tester thought: Away lives up to the hype. Rolling it through both the bumpy streets of Brooklyn and the tight aisles of John F. Kennedy International Airport was not challenging in the least. The lack of zippered compartments was off-putting at first, but then I embraced the joy of being able to see everything I packed at once. If the handle seems flimsy, it's because it's designed to absorb some of the shock as you're rolling the bag around. Genius! The bag's minimalist design also looks very chic. I scuffed it a little bit, rubbed off the dirt and it still looked like new.
Price: $295
Weight: 8.4 pounds
Bells and whistles: An expandable section and super-high-tech features, including a built-in weight scale and a battery for charging two devices
What the tester thought: Raden's smooth exterior is incredibly sleek — and if you typically sit on a suitcase to close it, you will slip and fall belly-first onto the carry-on as this tester did. Thankfully, an expandable zipper gives the suitcase a bit more breathing room for extra clothing. If you're a smart packer (i.e. you roll everything), you'll be able to squeeze in clothes for a 10-day warm-weather trip. Nothing feels quite as good as being the person with the smallest suitcase in the airport, and this little bag gets the job done. The charging and weighing capabilities make this suitcase worth its higher price point, especially when airlines enforce their weight-limit rules. Raden basically helps you beat the system.
Price: $280
Weight: 7.5 pounds
Bells and whistles: Laptop compartment with front access, expandable section
What the tester thought: A clamshell-style suitcase — where the bag opens in the middle to reveal two equal-sized halves — is my preferred type because it allows me to pack for two different climates in one bag or separate my clean and dirty clothes at the end of the trip. Though the Delsey is a clamshell, it's a bit different from what I'm used to: While one side is a fixed size, the other is restricted in that it shares spaces with the laptop pocket in the front, thus limiting the amount of clothing and shoes you can fit in.
That being said, I loved the easy access to the laptop pocket, a fantastic feature for anyone who travels with a computer but doesn't want the added weight on their shoulder. I also used it to store things like magazines and liquids for easy access when passing through security. The handle was another great feature — I like how it locks at half mast and full mast for rolling versatility — and the wheels are ultra-smooth.
Price: $299.99
Weight: 6.6 pounds
Bells and whistles: Extremely lightweight, tracking ID tag
What the tester thought: A slight breeze from a cracked-open window was able to smoothly blow the upright (and empty) carry-on across the room. It was as if a ghost were pushing the empty suitcase — a true testament to its lightweight claims. At first lift, you can tell the bag is significantly lighter in weight than most carry-ons, and it also fits a significant amount of stuff. Plus, with its less-common, more-square shape, this little luggage has a better shot of fitting in stuffed overhead compartments than its competitors.
All that being said, this hard case is not expandable (should you want to check it after buying too many souvenirs) and its pockets and organizing features are limited. While it accomplished all the tasks a standard suitcase should, for the price, I'd love if this carry-on had some tech-y features like a USB charging port — though its tracking ID tag is commendable if you ever do need to check it.