What's new on Netflix? Here are the best movie and TV additions coming in July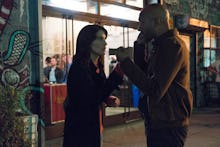 A new month means new additions to Netflix.
This July, a ton of movies and TV shows are coming to the streaming service. Subscribers can now binge brand new Netflix series (like Friends From College, starring Keegan-Michael Key, Cobie Smulders and more) and Netflix original movies like director Marti Noxon's To the Bone, which follows a young woman's struggle with anorexia.
And, of course, there are timeless cinematic classics coming to the service like the Oscar-winning Titanic and The Mighty Ducks. (Yes, The Mighty Ducks is a classic.)
Here are the eight Netflix additions that we're most excited for:
Near, far, wherever you are, Titanic is here to be streamed. James Cameron's 1997 blockbuster about the infamous unsinkable ship that sank hits the streaming service on July 1. Starring Leonardo DiCaprio as Jack Dawson and Kate Winslet as Rose DeWitt Bukater, this ambitious romance-disaster spectacle lets you experience the magic and terror of the unforgettable journey of the Titanic.
Speaking of timeless movies, The Mighty Ducks definitely is one of them. The 1992 Disney family classic tells the story of a lawyer, Gordon Bombay, played by Emilio Estevez, who is arrested for driving drunk and ends up, as part of his community service, coaching a youth hockey team. This feel-good hockey flick is as inspiring now as it was back in the '90s, and makes for a great watch on a hot summer day.
For those looking for some holiday spirit in the middle of summer, Netflix has got you covered. Billy Bob Thornton's back as low-life store Santa Claus Willie Soke in Bad Santa 2, which crashes the streaming service on July 8. In this sequel, Willie attempts to try and knock off a charity Christmas party in Chicago but maybe this time he'll learn the true meaning of Christmas ... probably not, though.
4. Lion (July 9)
Grab the tissues and prepare for an ugly cry for Lion. This movie tells the true story of Saroo Brierly, who, as a 5-year-old living in India, gets lost from his brother, beginning a harrowing journey before eventually being adopted by an Australian couple. Twenty-five years later, Saroo (played as an adult by Dev Patel in an Oscar-nominated performance), tries to find the family that he lost all those years ago. Remember: Bring the tissues.
In this Stars Wars prequel, fans are once again transported to a galaxy far, far away. Felicity Jones stars as Jyn Erso, who leads the Rebel Alliance in a plot to steal the plans for the Galactic Empire's new super-weapon, the Death Star. Longtime fans of the franchise will likely be thrilled when Rogue One directly sets up the events of 1977's Star Wars: A New Hope.
Reunited and it feels so ... weird. Friends from College is a new Netflix original series that tells the story of a group of Harvard friends who are nearing their forties and taking stock of their lives. Old resentments bubble up, characters engage in affairs — in short, it gets messy. Keegan-Michael Key, Cobie Smulders and Fred Savage star in this shared mid-life crisis, which was co-created by Forgetting Sarah Marshall director Nicholas Stoller and screenwriter Francesca Delbanco.
In Marti Noxon's To The Bone, Lily Collins plays Ellen, a 20-year-old woman dealing with anorexia nervosa. As a teenager, Ellen went through several recovery programs, but she's still having difficulties. In search of a solution, she goes to a youth home to try and overcome the condition, with help from a doctor played by Keanu Reeves.
Jessica Williams stars as Jessica James in Netflix's new original movie, The Incredible Jessica James. Written and directed by Jim Strouse, the film follows the life of a New York playwright who befriends a heartbroken man rebounding from a bad break-up. Worth noting: The movie earned rave reviews when it premiered at Sundance in January, with many praising Williams' performance in particular.
Mic has ongoing Netflix coverage. Please follow our main Netflix hub here.