'Call of Duty: WW2' Multiplayer Gameplay: Big changes highlighted at E3 2017 preview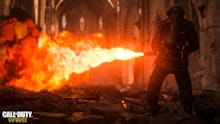 At E3 2017, we finally got our first look at Call of Duty WW2's multiplayer. Gone are rocket slides and double jumps, replaced by old-ass weapons and weird ahistorical character options. Developer Sledgehammer Games has also changed the whole structure around Call of Duty multiplayer with a slew of interesting changes.
Call of Duty WWII Multiplayer: Divisions, War and a new social space
Kotaku compiled all of the biggest changes coming to Call of Duty WW2's competitive offering. One of the strangest new components is Headquarters, which is a 48-player social lobby for you to run around in between matches. It's almost like Destiny's social spaces. It even has a firing range to test out new weapons.
At E3, Sledgehammer showed the new war mode, in which both sides have different objectives in longer matches based on real conflicts. If you've played Battlefield 1, it sounds a lot like the operations mode in that game. Operations were really cool in Battlefield, so hopefully they'll be cool in Call of Duty.
Lastly, Create-A-Class has been replaced by all new divisions. You'll choose from one of five divisions, which range from things like basic infantry to armored units. Each division has a standard weapon type, so you're basically choosing if you want to use assault rifles, sniper rifles or submachine guns. There will still be customization options within each division, but things sound a little more segregated than before.
Basically, it sounds like Call of Duty WWII is revamping some systems that have frankly become a little stale since they were introduced a decade ago in the first Modern Warfare. Hopefully it will work out for the best in Call of Duty's return to the war that started it all.
More news from E3 2017
For more from this year's E3, check out the new trailer for Super Mario Odyssey, the latest info on the Spider-Man game for PS4, the new Mario + Rabbids Kingdom Battle game for Nintendo Switch and our hands-on impressions of the new Xbox One X.