UK government rehouses Grenfell Tower fire victims in luxury apartments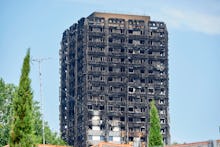 Those affected by London's Grenfell Tower will be able to move into new homes as early as July, government officials said.
Communities secretary Sajid Javid announced Wednesday that the Corporation of London acquired 68 units in a luxury apartment building to permanently house families that escaped London's Grenfell Tower fire last Wednesday, which left 79 people either dead or missing.
The flats are part of a social housing plan initiated by the government to provide living arrangements for all individuals who lost their homes in the blaze. Families can begin moving into the units in July and August.
"Our priority is to get everyone who has lost their home permanently rehoused locally as soon as possible, so that they can begin to rebuild their lives," Javid said in a press release.
The collection of one-, two- and three-bedroom apartments are included at the Kensington Row complex, a luxury building in London's Royal Borough of Kensington and Chelsea.
Units in the building typically range from 1.5 million pounds ($1.9 million) to 8.5 million pounds ($10.75 million) and feature facilities such as a 24-hour concierge, a spa and a private movie theater. The Guardian reported it's not yet clear whether the Grenfell victims will have access to these amenities.
The government plans to continue developing housing in the Grenfell area to ensure all who were displaced by the fire can receive new housing in a comfortable location as soon as possible.
"The residents of Grenfell Tower have been through some of the most harrowing and traumatic experiences imaginable and it is our duty to support them," Javid said.