iPhone 7S and 7S Plus: Release date, specs, price and everything else we know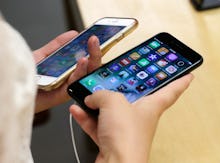 Apple may be launching three devices this year: an iPhone 8, an iPhone 7S and an iPhone 7S Plus. The iPhone 8 is rumored to be a commemorative, premium device that will release alongside its usual annual device upgrade.
The iPhone 7S and the iPhone 7S Plus are rumored to have a 4.7-inch screen and a 5.5-inch screen, respectively. Both phones are rumored to be the usual upgrades that Apple rolls out. This means the screens will be LCD, unlike the iPhone 8's rumored OLED display, and won't feature an edgeless bezel-less style.
Both smartphones will be waterproof, reports Nikkei Asian Review. The current iPhone 7 has an IP rating of IP67, which means the handset can be under up to 3.3 feet of water for up to a half hour, but the Korea Herald reports the next generation could be bumped up to IP68. Should this be true, then it means the new device could be submerged up to five feet for 30 minutes.
BGR reported that the iPhone 7S devices will be getting a feature rumored to debut in the iPhone 8 — wireless charging. This feature means users will no longer have to plug in their handset to a charger, which is plugged into a power source. Instead, they can charge it wire-free on an inductive surface. But earlier this month, a rumor emerged on Reddit suggested that the iPhone 7S would showcase an aluminum unibody, which would debunk any speculation about wireless charging.
Apple announced its new operating system at this month's Worldwide Developer's Conference, meaning the iPhone 7S and 7S Plus will come equipped with iOS 11. The tech giant also has a new processor, the A11 chip, which would presumably also come in the new line of smartphones, reports Digital Trends.
There may also be a change for the camera. Currently, the iPhone 7 Plus device has a dual-lens rear camera that is horizontally aligned. The upgraded model reportedly may come with a vertically-aligned rear camera.
Apple has not unveiled a release date or an announcement date for this year's smartphone lineup, but the S-cycle devices will likely debut this fall, as per the company's typical timeline.