'Pokémon Go' Gym Update: When are gyms coming back? Here's when construction will end.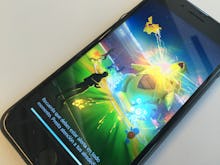 If your Pokémon Go gyms are still under construction, you're not alone. While the update has finally hit Android and iOS, gyms are still out of commission. Instead of providing a specific date players can throw their Rhydon or Lapras back into one of the many souped-up PokéStops, players are simply greeted with "Gyms are under construction."
When can we expect gyms in the Pokémon Go update to return? If you know where to look, the Pokémon Company has already spilled the beans.
Pokémon Go gym update: When are gyms coming back?
The official Pokémon page doesn't offer a date as to when the new gyms in Pokémon Go will be available, but the Pokémon Trainer Club newsletter does.
Those who have signed up for Pokémon Company's newsletter were greeted, like we were, with a few images in their inbox. Including this one:
According to the Pokémon Company, gyms that are under construction in the game will reopen sometime in early July. With plenty of time to spare before the Chicago Fest.
Pokémon Go gym update: What changes are coming to gyms?
Quite a few, actually. Unlike in the past, gyms will now yield items just like PokéStops. Additionally, groups of players can team up against a gym in what Niantic is calling Raid Battles. Don't expect gyms full of the same Pokémon anymore, however, only one of each species is allowed. Check here for the full list of changes in the Pokémon Go update.
With Pokémon Go gyms under construction until early July, players will have to wait a couple of weeks before they can start filling local gyms with their squad. In the meantime, you may want to train up your Pokémon if you've taken a break from the game and you're just getting back into it.
More Pokémon Go news and coverage
Check out Mic's Pokémon Go guides on how to get stardust, how to determine how long it will take you to reach level 40, the kind of Pokémon you get from 10-kilometer eggs, how to create new PokéStops, how to maximize your chances ofcatchingPokémon and how PokéStops distribute Pokémon eggs. Also check out how to catch Gen 2 baby Pokémon, our analysis of post-balance update Chansey and Rhydon and everything you need to know about finding the long-awaited Pokémon Ditto.