E3 2017 press conferences were a contrast between heart and cash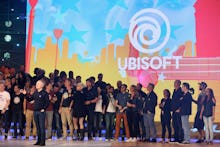 E3 press conferences are always the subject of scrutiny and excitement leading up to the actual show. They're rife with new goodies that tickle our collective fancies and get us excited for what's coming next. And while 2016's E3 conferences were full of exceptional upcoming titles and spectacular symphonic displays, this year rang hollow.
There was a deep divide that we couldn't help but notice at E3 2017: the war between the genuine fan and the garish influencer.
E3 2017: EA's disastrous conference proved that influencers can't replace developers
I live for enthusiasm in this industry. I love the genuine excitement that fans get when they talk about their favorite games. On the flip side of that sincerity is influencer marketing. Influencer marketing is where popular content creators, usually via YouTube or Twitch, get tapped by big publishers. The influencers then profess their undying love for a game, franchise or developer in exchange for cash — sometimes without disclosing their earnings in the first place.
Part of the problem with using influencers and popular shoutcasters in place of respected industry professionals is the diminished sense of respectability. When one of your influencers can't bro his way through the name of the game he's hocking, you've got yourself a problem.
But the bigger problem was that there was no passion in these presentations. There were scripts that were written to elicit emotional response from fans, but it felt disingenuous. Even Janina Gavankar, inarguably the most charming host during the conference, came across as stilted and forced.
There's more to an E3 press conference than spectacle and sparkle. EA's conference came across as out of touch. It was a cacophony of chatter that ultimately went nowhere. The trash fire of a conference that surrounded momentary lapses of lucidity was the result of believing that money will buy you long-term hype.
Listen, EA. You've got about 99 problems, but hype ain't one.
E3 2017: Ubisoft showed the softer side of the industry
I'll be the first to admit it: I didn't miss Aisha Tyler at this year's Ubisoft press conference. I adore her comedy. I think that she's a wonderful actor, and she never fails to make me laugh. But her absence made way for Yves Guillemot, Ubisoft's adorably French CEO. And it was Guillemot's charm that made way for the heartwarming moments peppered throughout the conference.
Davide Soliani, the creative director for Mario + Rabbids Kingdom Battle, has long been a Nintendo fan. According to an interview with GamesIndustry.biz, he even tracked down Shigeru Miyamoto — the designer behind Mario, Zelda and other Nintendo classics — for an autograph in 2002 while in Milan. So when he was tapped to work on a project with his hero in 2012, he was both excited and starstruck.
When I finally met Mr. Miyamoto, the creator of my favorite game and the inspiration of my whole career, I felt like I was divided in two — the passionate Nintendo player, and the Ubisoft creative director. I was split between the urge to ask for an autograph, and the responsibility to represent the game in the most professional way.
During Ubisoft's conference, Miyamoto practically skipped up to the stage, carrying one of the Mario + Rabbids guns in his hands. At one point, the camera panned to Soliani as they talked about the heart of the game that they had created with Nintendo. Soliani's reaction — his eyes full of genuine tears of joy — was a remarkable moment.
That moment of unabashed passion and joy in a sea of hardened cynics and toxic fanboys gave me pause. (To wipe away tears of my own, to be honest.)
And as much as I adored that small moment of joy from Soliani, it was eclipsed by Michel Ancel. Ancel, now head of Ubisoft Montpellier, was responsible for the Rayman series and a personal favorite of mine: Beyond Good & Evil. The Beyond Good & Evil 2 reveal made me weep for a number of reasons, not the least of which was Ancel's reaction to finally, finally being able to create the much-anticipated sequel.
The joy and the tears from both Ancel and Soliani reminded me that developers and designers are the heart of this industry that I have loved for so many years. They are the ones who dream and create — their heads in the stars and their hands in the clay of what will eventually be a video game.
E3 2017: The heart of the gaming industry isn't influencers — it's creators
I'm often torn between my roles as a fan and a journalist. I have to dance between distancing myself enough to critique a game or an idea without losing that passion and joy that drove me to this industry in the first place.
EA's press conference made my inner cynic roll its eyes and grit its teeth. It was a bald-faced attempt to appeal to a specific market segment rather than find ways to genuinely win fans. And while I enjoyed Sony, Bethesda and Microsoft's conferences, they were largely made up of the same "all aboard the hype train" antics they always are. (Though Pete Hines hype is always preferable.)
Ubisoft's spotlight on developers and designers gave us the joy we didn't know we were missing during E3. The tears, the laughter and the beauty of community is something I will take with me for many E3s to come. I will always take a developer's realness to an influencer's false bravado, and I hope that EA will learn to appreciate that, too.
More news from E3 2017
For more from this year's E3, check out the new trailer for Super Mario Odyssey, the latest info on the Spider-Man game for PS4, the new Mario + Rabbids Kingdom Battle game for Nintendo Switch and our hands-on impressions of the new Xbox One X.