Everything we know about the 'Downton Abbey' movie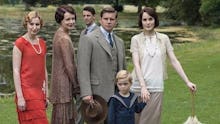 Time to get out the good silver and dust off the formalwear — a Downton Abbey feature film is officially on. NBCUniversal International Studios has green-lit the period drama series for the big screen. Production will begin in 2018.
"There's a movie in the works," Michael Edelstein, president of NBCUniversal International Studios, told the Associated Press at a red carpet event for "Downton Abbey: The Exhibition." "It's been in the works for some time."
Despite Edelstein making it seem like this is common knowledge, some of the stars in the original British series, which was syndicated in the United States on PBS, hadn't a clue.
"Oh, well, you've got confirmation before us," Sophie McShera, who played Daisy Mason, told the AP. "We have no idea if that's happening. But we would all love to be part of the film if it was to happen, for sure."
According to Edelstein, they're working on the script right now, and then they'll focus on pulling the cast together. However, many of them seem mighty busy working on other major projects.
Michelle Dockery, who played Lady Mary Crawley, has been playing a badass con artist on TNT's Good Behavior. Meanwhile, Hugh Bonneville, who played her father, Robert Crawley, has been working on several films, including a romance drama called Breathe. It will definitely take some wrangling to get all these powerhouses back together on one set.
That said, much of the cast seems eager to jump back into the elegant, diverting world of Downton Abbey. Now the question remains, will characters who died in the series, like Sybil and Matthew, somehow make a return? There's no telling yet how this movie will play with the original Downton Abbey timeline.
Mic has ongoing Downton Abbey coverage. Follow our main Downton Abbey hub here.