Snapchat Map: New Snap Map update highlights the key difference between Snap and Instagram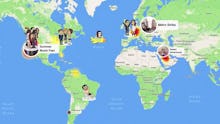 On Wednesday, Snapchat released an update that allows users to share their locations and view friends' locations on a map. It's a new social feature called Snap Map.
To access the map, navigate to the camera view and use two fingers for a pinch gesture on the screen. Friends who have chosen to share their location will appear as Bitmoji across the map, and you can zoom to see their more detailed location.
The new feature is set to "off" by default. You can choose to share your location with all friends, a select group or no friends (by selecting "Ghost Mode").
The Snap Map also highlights events, breaking news and noteworthy happenings around the world. In addition to seeing friends on the map, you can explore snaps from various locations and venues by tapping into the geostories pinpointed on the map.
Snap Map also incorporates public, shared Snapchat Stories. Only snaps that have been submitted to "Our Story" will appear; the usernames are stripped. This feature is an extension of the Story search feature that rolled out in January.
So what does this mean for Snap Inc. as it competes with Instagram, the Facebook-owned photo-sharing app that often clones features from Snapchat? How is Evan Spiegel's company working to differentiate itself?
Here are some key takeaways.
The Snapchat vs. Instagram battle is not as simple as it seems.
The move comes as Snapchat faces increased competition from Instagram. Instagram Stories now has over 250 million daily active users, up from 200 million in April, while Snapchat as a whole reported only 166 million users in its first-quarter earnings report.
Instagram also recently rolled out updates to its live video feature, allowing users to share live videos for 24 hours after the fact by posting them to Instagram Stories.
Snapchat's Snap Map update highlights the core differences between the two companies. While Instagram continues to function as a way to document things and broadcast content to a wide and more public audience, Snap has always focused on serving primarily as a communication platform between close friends.
The goal of Snapchat has never been to drive as many views on a story as possible. Users who treat the app that way will be disappointed.
For instance, a recent report from social analytics company Delmondo bemoaned a "decline of 50% in average unique viewers per story on Snapchat from June 2016 to June 2017." But the stories he's referring to are created by brands and influencers who use the app in a wildly different way from average users.
The Snap Map makes perfect sense. Just ask Snapchat's teenage user base.
Snapchat, for the majority of users, is not about building an "audience" and racking up story views, it's about communicating with the people who matter. Snapchat's messaging system is more robust than Instagram Direct. Many teens we've spoken to — people who compose Snapchat's core user base — prefer Snapchat over Instagram to chat with friends.
These teens use Snapchat Stories to let friends know what they're up to, not to "drive views" or recap past events (as is the case on Instagram). Seventeen young users told us in April that they mostly use Snapchat Stories to see what friends are doing, see who's there and determine if they want to meet up.
"If you're at a cool location, just snap one or two pics," said Rafael Singer, a 14-year-old from Los Angeles. "We just want to see where you are and the cool location you're at. Once you give a general idea of the place you're at, that's enough."
"We just want to see where you are and the cool location you're at." — Rafael Singer, 14
"Stories are cool, and people [use] them to see a few 5-second glimpses of what people are doing," said Michael Sheldon, a 16-year-old in Arlington, Virginia.
Snap Map offers these users a better way to visualize where their friends are and what's going on. It's an easier and more visual way to stay in touch with friends.
Snap Map makes it easy to make moves.
The Snap Map's featured geostories also allow users to discover interesting events and happenings that are taking place around them.
Instagram does allow users to discover content from particular events or locations, but there's no easy way to simply check out what's going on around you. Searching for a particular place on Instagram reveals an algorithmically determined set of top photos and videos from, say, a restaurant, but it won't reveal what's happening at that restaurant right now.
Snap Map allows for more actionable discovery. For instance, when I used Snap Map to zoom out to see what was happening in my current city, Chicago, I immediately saw that there was open rooftop yoga and a silent disco taking place just a few blocks from me. It looked fun; I theoretically could have stopped by.
When I tried to search for any trace of that event on Instagram, the only way I could discover it was by searching the venue itself. Traces of the event appeared in the venue's geostory, but the top Instagram photos for that location were days-old sunset views and artfully arranged cityscapes.
Snap Inc. is betting on real-time content discovery for better user engagement
Highlighting interesting events around the globe is a great way for Snapchat to get users to view more content and spend a longer time on the app, which could ultimately lead to new revenue streams.
Instagram's Explore page has provided a robust source of engagement for the app. Aside from the Story Search update in January, Snapchat has traditionally de-prioritized content discovery. Instagram doesn't currently do anything to highlight current events on its Explore page, so Snapchat's Snap Map update could allow the company to get a leg up on more real-time content discovery.
Given that Instagram has an issue with spam followers, it might have difficulty replicating Snapchat's new location-sharing feature due to privacy concerns. Though, if the past is any indication, Instagram will probably roll out a copycat feature soon enough.