Dominique Heaggan-Brown acquitted in August 2016 shooting of Sylville Smith in Milwaukee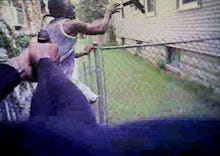 Dominique Heaggan-Brown was acquitted of reckless homicide Wednesday in the fatal August shooting of Sylville Smith in Milwaukee, WDJT reported. The verdict concludes a week of courtroom proceedings and two days of jury deliberation in the controversial case.
The outcome marks yet another demoralizing defeat for the Black Lives Matter movement and its allies, who have watched helplessly as one law enforcement officer after another has been acquitted or not charged for killing a black person. Less than a week earlier, on Friday, St. Anthony, Minnesota, Police Officer Jeronimo Yanez was acquitted in the fatal shooting of Philando Castile in Falcon Heights. That shooting also took place in the summer of 2016.
On Aug. 13, Heaggan-Brown and another Milwaukee police officer chased Smith down on foot after noticing that the 23-year-old was armed with a Glock, according to CNN. Heaggan-Brown fired one shot from his service weapon, striking Smith in the right arm and prompting Smith to toss his own firearm over a fence and place his hands on his head. Heaggan-Brown fired a another shot less than two seconds later while Smith was on the ground, striking him in the chest and killing him.
The fatal shooting sparked several days of rioting in Smith's predominantly black Milwaukee neighborhood. Heaggan-Brown is also black. On Oct. 31, Heaggan-Brown was fired from the Milwaukee Police Department for a separate incident involving sexual assault allegations against him. His firing was unrelated to the Smith shooting.
During his reckless homicide trial, prosecutors argued Heaggan-Brown did not need to use deadly force against Smith, claiming that the deceased was "in the most vulnerable position he [could] possibly be in" when he was killed. Heaggan-Brown's defense attorneys argued the contrary — that he feared for his life and had to make a split-second decision.
The jury that acquitted Heaggan-Brown consisted of nine women and three men. Seven of the jurors were white and five were black.