How to Play Nivelle Nights: 'Battlefield 1' June DLC adds a new map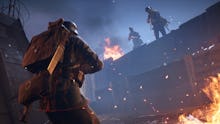 Battlefield 1's Nivelle Nights map is here, marking the debut of night maps for the game. However, figuring out how to play Nivelle Nights isn't as simple as it could be. Unlike the first expansion, which was kind of in your face about how to enjoy its new content, Nivelle Nights isn't segmented into a special playlist or matchmaking category. If you want to figure out how to find Nivelle Nights in the latest update for Battlefield 1, read below for everything you need to know.
Battlefield 1 June Map DLC: How to get Nivelle Nights
Before you can play Nivelle Nights in Battlefield 1, you have to meet one of two requirements:
1. Own Battlefield 1 Premium Pass
2. Own Battlefield 1: They Shall Not Pass expansion
If you only own the regular Battlefield 1 game, you're out of luck. Nivelle Nights isn't accessible through a base copy of the game.
Battlefield 1 June Map DLC: Where to play Nivelle Nights
Playing Battlefield 1's Nivelle Nights is pretty simple as long as you meet one of the two conditions above. In that case, Nivelle Nights is simply added to the They Shall Not Pass map rotation.
Unfortunately, this means that you have to just keep playing until you have a chance to vote on it at the end of a match. The good thing is that since it's a new map, it'll more than likely be unanimously voted for — though it can be frustrating to have to wait.
More gaming news and updates
Check out the latest from Mic, like this essay about the sinister, subtle evils lurking in rural America that Far Cry 5 shouldn't ignore. Also, be sure to read our review of Tekken 7, an article about D.Va's influence on one Overwatch player's ideas about femininity and an analysis of gaming's racist habit of darkening villains' skin tones.