What Melania Trump wore her 22nd week as first lady — the week she appeared nearly every day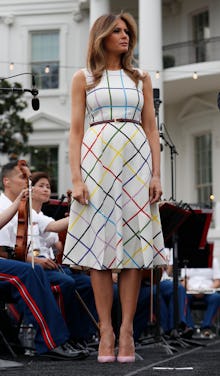 The theory that Melania Trump would become a more visible first lady after she finally moved into the White House has turned out to be absolutely true.
This week, her second since moving into 1600 Pennsylvania Avenue, she appeared five times, which would have been impossible to predict, say, three weeks ago.
With every appearance too, she shows that she is still trying to carve out a style of her own. Some days, she sticks to her style guns and embraces neutrals only. Other days, she pops in robin egg blue and rainbow plaid.
This is what Melania Trump wore this week:
Saturday, June 17: A light summer dress for leaving the White House and heading to Camp David
For her jaunt from the White House to Marine One, on which she flew to Camp David for the weekend, Melania Trump opted for a very pale blue dress by Gabriela Hearst, which of course was cinched at the waist with a brown belt, rumored to be Michael Kors.
On her feet, as almost always, were Louboutins, but this time they were flats.
Sunday, June 18: A casual, neutral outfit for arriving back at the White House
The very next day Trump was back at the White House, and for her grand appearance she wore casual, army green slim pants, a white button-down and a bright white bag by Céline.
On her feet were a pair of sandals by what's believed to be Manolo Blahnik.
Monday, June 19: A light blue shift for meeting the Panamanian first lady
Finally, a little color. For meeting with the Panamanian president and first lady, Trump wore a robin-egg blue shift dress with silver buttons along the hips. It's been identified as a Michael Kors dress, and she wore it with a patterned pair of white Louboutin heels.
Tuesday, June 20: A black lace dress for dinner with the vice president
The very next day, Melania Trump was back to her neutrals, wearing a black lace dress and black heels for a dinner with Mike and Karen Pence at their home.
The designer hasn't been ID'd yet for this, but it does look very similar to a lace Dolce & Gabbana dress, so perhaps it's custom D&G.
Thursday, June 22: A rainbow plaid dress for the congressional picnic at the White House
Consider this an outfit we'd never expect to see Trump wear. At the congressional picnic on Thursday at the White House, Trump wore a white dress with a rainbow plaid pattern by Mary Katrantzou, a Greek designer. Was the rainbow a coy way of celebrating Pride Month? We doubt it, but it was nice to see her in a little color again anyway.
The heels, too, were light pink.
The only real sign that this is a Trump outfit is the belt.
With this being the second week that Trump's lived at the White House, it's clear she's trying to make up for lost time, appearing nearly every day this week and in more creative, interesting outfits, too.
You can see previous recaps of what Melania Trump wore here.