Tropical Storm Cindy: 10-year-old boy fatally struck by debris from storm surge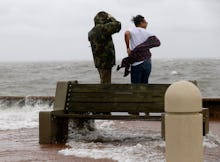 Projectile debris from a large wave caused by Tropical Storm Cindy fatally struck a 10-year-old boy on the Alabama coast, according to a statement from local law enforcement reported by the Associated Press.
According to the Baldwin County Sheriff Captain Stephen Arthur, witnesses say they saw the child, whose identity has not been made public, standing outside a condominium when a log washed in by the large wave of a storm surge struck the boy. Neither emergency workers nor the boy's family could resuscitate him after the strike, Edwards said.
The boy and his family were vacationing from Missouri and staying in the condominium where the accident occurred, according to authorities.
According to a meteorologist for CNN, Tropical Storm Cindy will bring winds of up to 50 mph and up to 12 inches of rain to 17 million Americans living along the storm's path.
The National Weather Service issued a tropical storm warning Tuesday to some regions of Louisiana, Mississippi and Texas. Louisiana Governor John Bel Edwards declared a state of emergency Wednesday morning, the AP reported.