EPA committee told that "climate change will be de-emphasized" by Trump administration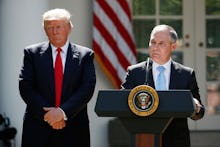 Members of a key Environmental Protection Agency advisory committee were told in a conference call on Wednesday that the Trump administration wants a "de-emphasis" on climate change across the agency, according to two people who were on the call.
Speaking to members of the Board of Scientific Counselors, EPA officials from the Office of Research Development said that "climate change will be de-emphasized by the administration," according to Peter Meyer, who resigned from one of BOSC's five subcommittees in May.
The 30-minute conference call — led by Robert Kavlock, acting assistant administrator of the ORD — largely focused on praising members of the key scientific review board and encouraging non-renewed members to reapply for their seats, according to Meyer and Elena Craft, a member of one of BOSC's five subcommittees. Both were on the call.
BOSC members serve three-year terms that are typically renewed due to lengthy assignments. All members who were due for renewal were informed Monday that they will not be renewed. The board advises the ORD and is tasked with reviewing and evaluating the EPA's science. Its advice is used by the agency to create regulations on air pollution, clean water and other environmental issues.
Meyer perceived the repeated calls for members to reapply as an attempt to "undo the damage not renewing did," and both Meyer and Craft said that they were told that administrator Scott Pruitt's EPA is looking to add representatives of industries regulated by the agency to BOSC — apparently confirming concerns that the administration will use a "political litmus test" to choose new board members.
"That's obviously the fear that a lot of people might have just because this is a fairly aggressive move in terms of essentially overhauling an entire system," said Craft, whose term was not renewed. "This is a robust scientific brain trust arm of the EPA that's been totally decimated."
An EPA spokesperson declined to comment on Wednesday's conference call, but said in an email statement that the agency has "made it very clear that we are focused on getting back to the agency's core mission of protecting clean air, land, and water."
The EPA informed BOSC members in an email on Monday evening that no current advisers whose terms are expiring will be renewed in a shakeup of the key review board tasked with evaluating the agency's science and helping set its regulatory agenda. Members were also informed that all 2017 BOSC meetings would be canceled.
Deborah Swackhamer, chair of the BOSC executive committee, said in an email on Tuesday that the move would render the committee unable to function for an estimated six months to a year and that it was an attempt by the Trump administration to "wipe the slate clean" so it can fill the board with industry representatives.
That shows the administration is "not willing to listen to science" and could leave the United States vulnerable to environmental threats, Gretchen Goldman, research director at the Union of Concerned Scientists' Center for Science and Democracy, told Mic on Tuesday.
"I would worry about EPA's ability to be ready for emerging threats to public health and the environment," Goldman said. BOSC "can shape that research and reveal the importance of those issues."
President Donald Trump and Pruitt have each expressed doubt about climate change, and the administration's scientific and environmental policies have been the subject of widespread criticism. The "schedule and membership" changes to BOSC announced on Monday are apparently part of an overhaul of the committee that a Pruitt spokesperson said in May would be "a clean break with the last administration's approach."
The shakeup began in May, when several BOSC members — including Courtney Flint and Robert Richardson, co-chairs of the Sustainable and Healthy Communities subcommittee — were effectively dismissed by the EPA.
That led Meyer and Carlos Martín, members of the SHC subcommittee, to resign in protest, saying they "cannot in good conscience be complicit in our co-chairs' removal, or in the watering down of credible science."
Meyer told Mic on Wednesday that the non-renewals will kneecap the board, as new board members have an "extremely steep" learning curve.
"They got a lot of value out of us after we had put in a lot of time learning what we needed to learn," Meyer said. "All of that investment is down the tubes."