'OITNB' actress Danielle Brooks wants to redefine roles for "someone who is bigger than a size 6"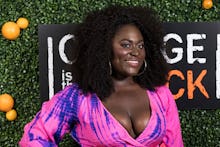 Danielle Brooks is nothing if not a queen of multitasking.
In between performances for her Broadway debut in The Color Purple — which sometimes included two shows a day — Brooks shot the fifth season of Orange is the New Black, which, true to form, saw her character Taystee driving the show's action and emotional highs and lows.
In an interview with Vulture, the 27-year-old finally had a chance to catch her breath and think about what she's accomplished and what's next.
"I want to get into some action films because I don't like the sense that people feel that curvy women, plus-size women, aren't active as well," she told the site. "I think that's very important to let the world know that I can jump up shit and do fancy things with swords, too, like combat. I went to Juilliard, for God's sakes, I know a little something about combat."
Brooks said she's also eager to build on the success of Taystee's romantic arc on Orange is the New Black in other projects. The show, she said, allowed Samira Wiley's character Poussey to harbor an unrequited love for Taystee — a rarity for television and film, which usually portray plus-size women as being the ones pursuing, not the one's being pursued.
"To get in that, to show that side of someone who is bigger than a size 6, would be fun for me," Brooks said. "Also playing the love interest. I don't get to do that as often."
Author Roxane Gay, who just came out with her book Hunger: A Memoir of (My) Body, wrote about plus-size women's rise in Hollywood in 2012, noting that their success often comes at a "rather high cost."
Gay points out that while plus-size actresses like Melissa McCarthy and Rebel Wilson may be getting more jobs than ever, many of their roles still cast them as the fat, funny friend, whose size is the butt of every joke.
"Overweight actresses are routinely constrained to roles and plots that make their body a focal point and, more often than not, a source of ridicule or humiliation," Gay wrote for the Wall Street Journal at the time. "They are always considered overweight long before they are considered women. The constancy of this erasure is telling."
Brooks wants to change that.
"I want to be the one being chased," Brooks told Vulture.
"And hell, I am being chased," she laughed, presumably alluding to the requests flying her way to sign onto projects. "So, let's tell that narrative."