O.J. Simpson's parole hearing will be held in Nevada on July 20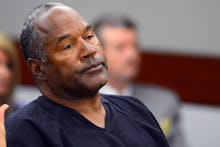 O.J. Simpson will appear before the Nevada Board of Parole Commissioners on July 20. He will communicate with the board via video feed from a correctional center in Lovelock, Nevada, USA Today reported.
If granted parole, Simpson, now 70, could be released in October.
The former NFL player is serving a minimum nine-year sentence for armed robbery, kidnapping and other charges related to a 2007 confrontation with two sports memorabilia dealers in Las Vegas. He has served eight years out of a possible maximum of 33.
According to CNN, Simpson explained the motivation for the 2007 incident to the parole board as follows:
My crime was trying to retrieve for my family my own property that was stolen from me. I wish I had never gone to that room. I wish I had just said keep it and not worry about it.
He received parole on a number of charges from 2007 during the 2013 hearing. The remaining charges will be addressed at the July 20 hearing.
Parole hearing unrelated to 1990s case
Simpson's current legal status is completely unrelated to the so-called "trial of the century" that concluded in 1995, when he was acquitted of murder charges against him.
His wife, Nicole Brown Simpson, and her friend, Ron Goldman, were stabbed and killed on June 12, 1994, outside Nicole's home. Simpson was charged with murder and fled from the police after agreeing to surrender himself to the authorities on June 17. He eventually surrendered after a televised police chase.
The case highlighted deep racial divisions in the U.S. around perceptions of Simpson's innocence. According to a CNN poll, 62% of white individuals polled believed him to be guilty of the killing and 68% of black respondents believed him to be innocent of the charges.
No one has been convicted in the killing of Simpson and Goldman, although a civil trial found Simpson responsible for their deaths and awarded $25 million in punitive damages to the families, not counting the $8.5 million in compensatory damages awarded to Goldman's family from an earlier verdict.