Apple iOS 11 Public Beta Release Date: Developer beta 2 is here. When does the public beta come out?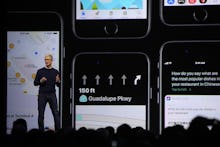 Update: iOS 11 is here. Here's how to install and troubleshoot it.
Get ready to refresh that Software Update screen, iPhone geeks. Apple just released the second developer beta of iOS 11, the new mobile operating system for iPhone and iPad that'll be officially released with the next iPhones this fall. That likely means the first iOS 11 public beta release is days away.
Apple released the developer beta of iOS 10 on June 13, 2016, after the WWDC keynote. The first public beta of iOS 10 came out on July 7, 2016, about three and a half weeks later. "Historically, Apple releases the first iOS developer beta on the first Monday of WWDC, followed by the second iOS developer beta on the following Tuesday, 15 days later," 9to5Mac noted.
Apple iOS 11 public beta release date
It looks like Apple is following a similar schedule with iOS 11, which was announced and released to developers June 5. According to 9to5Mac, "a release next Tuesday, on June 27, would match last year's 22-day period between builds." Apple likes to work out kinks in the developer betas before unleashing them on the public.
Developers can download iOS 11 beta 2 on Apple's Developer Center, or by tapping through to Software Update under General in their device's Settings app. The rest of us, however, will have to wait just a bit longer.
As of Friday morning, there's still no public beta of iOS 11, but iOS 10.3.3 public beta 4 is available for download. It's a very small update; here's what's new.
June 23, 2017, 10:40 a.m.: This story has been updated.
More iOS 11 news and updates
Can't wait for iOS 11? Here's everything you need to know about Apple's new mobile operating system. Check out our guide to the biggest iOS 11 bugs so far, along with all the new features: how to record your screen, how to block texts while driving, new effects in Messages, how it lets you bypass Snapchat's screenshot alert, iOS 11 dark mode, peer-to-peer Apple Pay and, of course, the iOS 11 beta release date.