Donald Trump's first 2020 fundraiser will be at his DC hotel, raising ethics concerns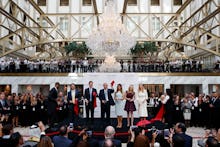 President Donald Trump has decided on the location of his 2020 re-election campaign's first major fundraiser — and it's at his Washington, D.C. hotel, which has already raised major concerns about conflicts of interest.
According to the Associated Press's Julie Bykowicz, campaign director Michael Glassner confirmed the Trump International Hotel in Washington will be the site of the June 28 event.
Trump's federally contracted leasing of the Washington landmark for the purposes of building a hotel there has long been a source of ethical and legal contention. Its owner, the General Services Administration, reportedly was worried Trump was not capable of meeting the terms of the deal without engaging in risky borrowing, and BuzzFeed reported in April 2016 he had already reneged on several promises.
The ethics concerns have only intensified, as Trump simply transferred control of his business empire to his adult sons instead of divesting when he became president. Democrats have sued Trump for allegedly taking illegal foreign payments from the large number of foreign government officials who have stayed there.
Now, like during the campaign season, there are additional concerns that Trump's use of one of his properties for campaign purposes could essentially be a form of self-dealing.
"The appearance is not great," Richard Painter, who served as the chief White House ethics lawyer under George W. Bush, said in a phone interview. "... I would advise against it, but it's legal."
"It has to be equal, it has to be at equal value, market rate to address that problem," Painter added, noting campaign venues and contractors are required to charge campaigns the going price for services. Otherwise, he said, corporations could effectively illegally underwrite campaigns by charging under-market prices on one side, or profiteer from campaign funds by charging too much — a particular problem when owner and candidate are one and the same.
"We had this going last year," Painter said. "The position I took on it was that they need to do everything at cost because otherwise you have a subsidy of the campaign by the hotel corporation ... or you have the reverse, a subsidy of the hotel by the campaign, which is probably the worse of the two situations."
However, Painter did note the going rate at Trump's D.C. hotel has likely shot up because of his campaign and presidency. While the campaign events are one thing, trade associations and lobbyists would be more than willing to shell out, especially if they believe they will gain access to executive branch staffers.
"Obviously if I was going to lobby the executive branch, it would be my first choice," Painter concluded.