'Wall Street Journal' reporter fired over ethical violations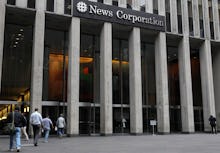 The Wall Street Journal fired its chief foreign affairs correspondent, Jay Solomon, after an investigation by the Associated Press found that Solomon was involved in a prospective business deal with an arms dealer who was one of his journalism sources.
"We are dismayed by the actions and poor judgement of Jay Solomon," the Journal said in a statement. "The allegations raised by this reporting are serious. While our own investigation continues, we have concluded that Mr. Solomon violated his ethical obligations as a reporter, as well as our standards. He has not been forthcoming with us about his actions or his reporting practices and he has forfeited our trust. Mr. Solomon is no longer employed by the Wall Street Journal."
According to the report, which was published on Wednesday by the AP, Solomon was offered a 10% stake in a now-defunct company founded by Iranian businessman Farhad Azima. Solomon and Azima discussed the proposed business deal for months at the same time that Azima was one of Solomon's sources in stories for the Journal, the AP said, although Azima was not named in the stories.
The AP reviewed communications spanning more than eight years about the company, called Denx LLC. In one conversation, Azima wished Solomon luck on closing a $725 million deal with the United Arab Emirates, which involved the use of surveillance planes: "We all wish best of luck to Jay on his first defense sale."
"Our business opportunities are so promising," Solomon wrote in another message to Azima, which was also reviewed by the AP.
Solomon denied entering into the business agreement with Azima. The AP did not find evidence that Solomon had formally accepted a stake in Denx, or whether any money had been exchanged.
"I clearly made mistakes in my reporting and entered into a world I didn't understand," Solomon told the AP. "I never entered into any business with Farhad Azima, nor did I ever intend to. But I understand why the emails and the conversations I had with Mr. Azima may look like I was involved in some seriously troubling activities. I apologize to my bosses and colleagues at the Journal, who were nothing but great to me."
The AP discovered Solomon's involvement as part of an investigative report into Azima, who is the focus of a global criminal corruption case. That report can be read here.