The new iOS 11 beta is out, and Apple has changed your iPhone's message effects again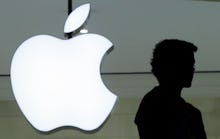 The iOS 11 beta 2 is ready for all you iPhone-using early birds. Apple is releasing its new mobile software this fall, but developers and anxious early adopters can get their hands on iOS 11 now. There are many updates tucked inside, like a better dark mode and easier screen recording. If you use Apple's Messages app, you'll especially want to note the changes to message effects.
We've talked before about the new Message effects arriving with iOS 11. Now Apple has updated how they look. Previously, the Echo message effect looked like this:
Now, those multiple blue bubbles will appear as multiple orange bubbles instead. Like so:
Interestingly the orange bubbles go back to turning blue when you send an emoji or a sentence with an emoji in it.
But things go back to orange when you send only text:
Interestingly, unlike iOS 11 beta 1, every other message in the window goes greyscale — making the effect more visually dramatic.
It's unclear whether this is intentional or a bug. Judging by the blue color when using an emoji (and the fact that orange is an entirely random color) we could see this changed before iOS 11 arrives this fall. Though if Apple is hinting that we'll be soon able to choose our bubble color, message received.