Sen. Tom Cotton's intern used a mind-blowing array of slurs in front of a reporter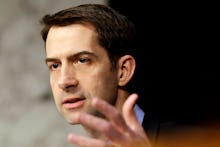 An intern for Republican Sen. Tom Cotton of Arkansas told reporter Caleb Ecarma the British are "faggots" and Speaker of the House Paul Ryan is a "cuck," Mediaite reported Wednesday.
In an audio recording obtained by the site, the intern identified only as "Nate" discussed the American Revolution by saying the British were "faggots" and adding, "Benedict Arnold was a homosexual."
In another section, Nate discussed terror attacks in the U.K. by saying, "Five days ago there's a terrorist attack in England ... They seem to tell us, they say we need to lax our immigration system and let more of these people in. Fuck nah ... and am I a bigot? I guess damn so."
"Because that shit's happening there," he continued. "Look at the shit. Open borders, open borders — Paul Ryan is a cuck. Paul Ryan is a cuck."
"That's — what's the point?" he Nate adds. "What's the point? Because my point is that Paul Ryan is a cuck."
Another individual jumps in, saying "Nathan, I agree with you but that's not the point."
In another segment, Nate said the point of American exceptionalism was "American superiority ... Americans are the superior race."
"Americans are a superior race to everyone in the world," he said. "One hundred percent, we're superior people."
The term "cuck" is a reference to the sexual fetish of cuckolding, in which one member of a couple enjoys watching or hearing of the other's outside sexual exploits. The term has taken on an unpleasant, racist meaning after the far-right and white nationalist community began using it as a slur directed at politicians they deemed insufficiently nativist, with a thinly veiled implication of interracial relationships.
A Twitter account linked by Mediaite by the site has since been set to protected, but Ecarma wrote he repeatedly deployed words like "fag," "faggot" and "gay" in a bigoted way on the website, as well as the slur "tranny."
Cotton's office told Mediaite the person in question "is no longer an intern in Senator Cotton's office. Beyond that, I cannot comment on personnel matters."