The ACLU is suing the Washington, D.C., police for violating the rights of Trump inaugural detainees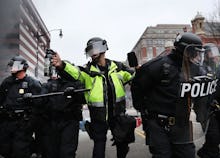 The American Civil Liberties Union filed suit on Wednesday against the District of Columbia, officers of the Metropolitan Police Department and Police Chief Peter Newsham on behalf of people they say were mistreated after being arrested amid large-scale protests at President Donald Trump's January inauguration.
The ACLU Washington, D.C. affiliate's complaint charges the police with "making unconstitutional arrests, using excessive force, denying arrested people food, water and access to toilets" as well as conducting "invasive bodily searches of protesters exercising their First Amendment rights."
The plaintiffs in the suit, Horse v. District of Columbia, include a photojournalist and a legal observer.
"The MPD's extreme tactics against members of the public, including journalists, demonstrators and observers, were unjustifiable and unconstitutional," ACLU attorney Scott Michelman said in a statement.
"People from all over the country come to the nation's capital to exercise their constitutional right to protest," Michelman said. "MPD's wanton and vindictive conduct on January 20 chills free speech, which is a vital part of our democracy."
The 41-page complaint the ACLU filed in federal district court seeks jury-awarded compensation for the plaintiffs.
In graphic detail, the suit accuses police of a slew of abusive and unlawful actions against New Yorker Shay Horse, who was documenting the anti-Trump demonstrations as a photojournalist; legal observer Judah Ariel of Washington; and demonstrators Elizabeth Lagesse of Baltimore and Milo Gonzalez of New York.
The alleged violations occurred as police were attempting to stop certain demonstrators from engaging in vandalism by rounding up hundreds of people in a tactic known as "kettling," the ACLU said. The crowd-control efforts included the use of "pepper spray, tear gas, flash-bang grenades, concussion grenades and smoke flares."
The ACLU said Horse and Lagesse "were kettled and subjected to pepper spray, tear gas and painful handcuffing, and they were denied food, water and bathroom access for several hours."
Ariel was pepper-sprayed, the complaint said, while Horse and Gonzalez were also "subjected to invasive manual rectal probe searches" without evidence that they might be concealing any contraband items in their bodies:
"As a result of Defendants' manual rectal probing and grabbing of his testicles, Mr. Horse suffered humiliation, anxiety and emotional distress. He feels as if he has been raped. Mr. Horse's anus was sore for a day or two after the intrusion. Mr. Horse has felt irritable and withdrawn from other people, and he has found it harder to trust and confide in other people. The emotional distress has negatively affected Mr. Horse's relationships, including impinging on his sex drive and performance. Mr. Horse remains haunted by what he experienced."
The complaint also said detainees suffered as a result of being denied access to toilets:
"Having no other place to urinate, some of the demonstrators urinated on the street or against the side of buildings. Some demonstrators rummaged in the trash for empty bottles in which to urinate. At least one demonstrator crouched against the side of a building and defecated into a paper bag."
Horse, in a statement on the ACLU website, said many people at the inauguration "suffered tremendously just for exercising our First Amendment rights to cover the demonstrations or participate in them. With this lawsuit, I want to stand up for all the protesters who were abused and bullied and assaulted and molested."
In response to a Mic request for comment on the allegations, the MPD said via email on Wednesday evening that the department protects the safety of "thousands of First Amendment assemblies, demonstrations and protests" in the District every year.
"During the 58th Presidential Inauguration, there were thousands of individuals who exercised their constitutional right to peacefully assemble and speak out for their cause," the MPD response said.
"Unfortunately, there was another group of individuals who chose to engage in criminal acts, destroying property and hurling projectiles, injuring at least six officers."
Those people were arrested and most are in the process of being prosecuted following indictment by a grand jury, the police statement said, adding that MPD would "continue to support and respect the formal legal process" and also fully investigate "all instances of use of force by officers and allegations of misconduct."