Weeks after being warned about Hatch Act, Trump social media guru may have crossed the line again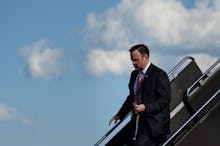 On June 5, President Donald Trump's social media director, Dan Scavino Jr., got a stern warning from the Office of Special Counsel: Public officials can't use their positions to engage in political activity. Don't do it again.
On Wednesday, Scavino may have crossed that line again.
The assistant to the president used his official government Twitter account, @Scavino45, to retweet a Trump dispatch from Iowa that hyped both an official presidential visit to a community college and a campaign event immediately afterward.
"Thank you Kirkwood Community College," Trump tweeted. "Heading to the U.S. Cellular Center now for an 8pmE MAKE AMERICA GREAT AGAIN RALLY!"
The rally at an arena in Cedar Rapids, Iowa, was promoted on Trump's campaign website, which solicits political donations and hawks buttons, hats and other swag.
Scavino's Wednesday retweet — so soon after he'd been warned by the special counsel's office that he had violated the Hatch Act, which prohibits government employees from engaging in campaign activity — caught the eye of Daniel Jacobson, who worked as a White House lawyer in the Obama administration.
Scavino, whose social media work was a staple of Trump's run for the presidency, was reprimanded earlier this month for violating the Hatch Act by way of an April tweet in which he trashed Republican Michigan Rep. Justin Amash.
"@realDonaldTrump is bringing auto plants & jobs back to Michigan. @justinamash is a big liability. #TrumpTrain, defeat him in primary," Scavino urged followers of his personal Twitter feed.
As Jacobson noted, Scavino's warning letter, which stemmed from a complaint lodged by the watchdog group Citizens for Responsibility and Ethics in Washington, or CREW, made clear OSC would consider another such escapade "a willful and knowing violation of the law, which could result in further action."
At the time of the anti-Amash tweet, Scavino's account "showed him standing in the Oval Office next to the official presidential flag, and had a header photograph showing Trump giving a speech behind a lectern with the official presidential seal," CREW said on its website.
"After being called out by ethics experts, Scavino removed the photograph with the official seal and changed his Twitter bio to refer to the campaign."
In the Amash case, NBC News reported, the White House initially argued Scavino hadn't run afoul of the Hatch Act because he'd used his personal feed, not the official government Twitter account.
However, "Even though the president and vice president are not subject to the Hatch Act, White House staff can't retweet posts from either of them about campaign stuff," Jacobson told Mic via Twitter direct message late Wednesday.
Guidance available on the website of the Office of Special Counsel specifies that "any social media account created in a federal employee's official capacity should be limited to official business matters and remain politically neutral."
The consequences of intentionally violating the Hatch Act are serious, according to the law: A negative finding could mean "disciplinary action consisting of removal, reduction in grade, debarment from Federal employment for a period not to exceed 5 years, suspension, or reprimand," as well as a fine of up to $1,000.
Asked about Scavino's latest retweet, CREW spokesman Jordan Libowitz told Mic in an email late Wednesday that "Scavino was warned not to use his official twitter for campaign purposes when he was reprimanded for violating the Hatch Act following our complaint to the Office of Special Counsel. Unfortunately, it appears he may have done so again."
Libowitz continued, "There needs to be a clear separation between official use and campaigning. If there isn't, there needs to be consequences."
The White House press office did not immediately respond to a Mic request for comment about Scavino on Wednesday night.