'NBA 2K18' Release Date News: When to expect more details on the Sept. 2017 launch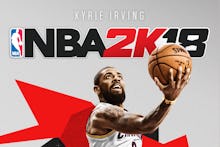 EA Sports allowed a number of YouTubers to publish gameplay footage from NBA Live 18 on Wednesday, and the game is getting a lot of positive responses. So where does that leave us with NBA 2K18? We don't know much, but we can speculate a lot based on how the series has rolled out over the past few years,
NBA 2K18 release date: When can we expect more news?
As usual, NBA 2K had little to no presence at the Electronic Entertainment Expo and aside from cover news there's been no information on the game. Fans shouldn't be too concerned as the info release schedule doesn't look much different than it did last year.
The cover athlete was revealed on May 31 in 2016 for NBA 2K17. The same information was released on June 1 this year. In mid-July of 2016, 2K released a developer blog for the MyGM and MyLeague modes.
That could be around the time we hear more about NBA 2K18. 
Traditionally, the NBA 2K info rollout hits its full stride in August. Screenshots and trailers were circulated at that time in 2016, and it seems logical that would be when we see that sort of media again this year.
NBA Live will release a demo in August, but there may not be a ton of new info coming out about the game between now and then, though we're still waiting on confirmation on the inclusion of the WNBA and/or its players.
While the NBA Live franchise is seemingly poised for a comeback, don't expect 2K to mess with what has been a winning formula. 2K Sports has been a master of pre-release hype for years and that trend will likely continue ahead of the release of NBA 2K18.
More sports gaming news and updates
Love sports games? Check out more content from Mic, including tips for leveling up your MLB The Show RTTS player, the new story mode in Madden 18, a wish for the WWE 2K18 release and a detailed sports video game release calendar.