Here's how the Senate's draft health care plan could affect reproductive services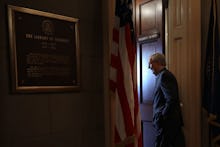 Republican senators have finally unveiled their secrecy-shrouded iteration of their suggested Affordable Care Act replacement. As far as reproductive health care goes, it is not quite as bad as the version the House passed in May — but overall, could still negatively impact those services.
Mitch McConnell, the Senate majority leader and a key proponent of the bill, debuted a discussion draft to a group of his colleagues on Thursday morning. The draft Senate bill preserved much of what upset abortion rights activists about the House's iteration: It would block federal funding for Planned Parenthood for a year, while also enacting harsh Medicaid cuts. It would not guarantee coverage for pre-existing conditions, either, which would create barriers to care for people with such non-ailments as having given birth and having had a C-section.
The Senate health care plan differs in that it would dispense with the House stipulation that federal tax credits could not be used to buy insurance plans that covered abortion. That provision would likely have meant that private insurers stopped including abortion coverage in their plans altogether. Dropping it was not a nod to women's reproductive rights, however, but a means of safeguarding the legislation — the insurance ban could have violated an obscure legislative rule and tanked the bill.
According to the New York Times, lawmakers are simply trying to rush the bill through the Senate and avoid a Democratic filibuster. McConnell hopes to settle the matter one week from Thursday, and intends to hold a vote on the plan before Congress goes into its July 4 recess. Neither Congressional Democrats nor the public will have much chance to weigh in.
McConnell also expects that the Congressional Budget Office will tender its report on his bill by Tuesday. To get an idea of the bill's potential impact, the best we can currently do is to look at a version of the health care plan that failed to advance in March. This preliminary version was projected to eliminate insurance coverage for some 24 million people by 2021. The majority of those people would have been Medicaid patients, victims of sweeping cuts to the federal aid program.
Every interation of the bill so far — both those from the House and the Senate's draft — would wipe out the $500 million-plus Planned Parenthood receives annually from the federal government in the form of Title X grants and Medicaid reimbursements. That money nearly never pays for abortion and instead allows low-income people to access things like prenatal care, cancer and STI screenings, breast exams, contraception, HIV testing, vasectomies and pap smears.
Roughly 60% of Planned Parenthood's 2.5 million annual patients rely on government grants to afford treatment, and about 75% of their patients earn incomes that place them at or below 150% of the federal poverty line. Additionally, Planned Parenthood estimates that about 54% of its health centers serve areas where access to other medical professionals is narrow.
The people worst affected by the Senate health care plan are likely to be the same people who are always disenfranchised by our health care system — namely, people of color, low-income communities and people who live in rural areas.
All of this explains why Cecile Richards, president of Planned Parenthood Federation of America, called the plan "the worst bill for women's health in a generation" when it passed the House. Her assessment stands.