Archbishop apologizes for Church of England's role in hiding years of "systemic" sexual abuse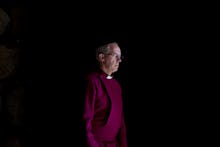 Archbishop of Canterbury Justin Welby, head of the Church of England, offered a full-throated apology Thursday for the church's role in hiding the sexual abuse of teenagers at young men at the hands of Peter Ball, one of its former bishops.
"To the survivors who were brave enough to share their story and bring Peter Ball to justice, I once again offer an unreserved apology," Welby said, "There are no excuses whatsoever for what took place and the systemic abuse of trust perpetrated by Peter Ball over decades."
In 2015, ex-bishop Ball was convicted of indecent assault after admitting he sexually abused 18 young men aged 17-25 over the course of 20 years. He was released from prison after serving 16 months.
After Ball's imprisonment, Welby ordered an independent investigation into the Church of England's role in Ball's sexual abuse of young men. That review, led by Dame Moira Gibbs, published its findings Thursday in a report titled "An Abuse of Faith."
In her foreword to the report, Gibbs excoriated both Ball and the Church of England with equal vehemence.
"[Ex-bishop Ball's sexual abuse of young men and teens] is shocking in itself but is compounded by the failure of the church to respond appropriately to his misconduct, again over a period of many years," Gibbs wrote, "Ball's priority was to protect and promote himself and he maligned the abused. The church colluded. The church colluded with that rather than seeking to help those he had harmed, or assuring itself of the safety of others."
Welby described the report as a "harrowing read."
"The church colluded and concealed rather than seeking to help those who were brave enough to come forward," Welby said in his apology to Ball's victims, "This is inexcusable and shocking behavior."