'Star Wars: The Last Jedi' director responds to creative control issues following 'Han Solo' shakeup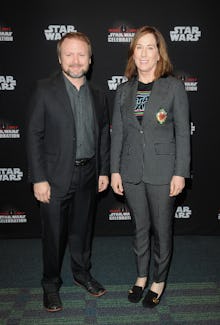 June has not been incredibly kind to the Star Wars universe. First, Colin Trevorrow's latest film, The Book of Henry, was largely panned by critics, leading some to worry over his position as director of Star Wars: Episode IX. Then, in a move that sent shock waves across the internet and beyond, Phil Lord and Chris Miller, directors of the untitled Han Solo anthology film, were fired by Lucasfilm president Kathleen Kennedy over "creative differences." And now, according to the Hollywood Reporter, Academy Award winner Ron Howard will step in to finish the film, which is under a cloud of uncertainty.
While most of the current concern surrounding the Star Wars universe centers around Star Wars: Episode IX and Han Solo's rocky production, those films will not arrive in theaters until 2018 and beyond. The next Star Wars film to be released, however, is Star Wars: The Last Jedi, which was directed by Rian Johnson. And Johnson has in the past assured fans that he has had a great deal of freedom on The Last Jedi.
In the wake of Lord and Miller's firing, Johnson has once again reiterated that he enjoyed plenty of creative control during production on The Last Jedi. Twitter user @Thimburd wrote at Johnson, "You praised Disney for months about full creative control and yet Miller and Lord are fired for having their own vision. Strange."
"I had as much creative control on [The Last Jedi] as I've ever had on any of my own movies," responded the director.
It is not all that shocking that Johnson would once again state that he has had creative freedom over The Last Jedi. After all, it is probably true. The Han Solo anthology film and The Last Jedi are drastically different movies. The Han Solo film was written by Lawrence Kasdan, the iconic scribe of The Empire Strikes Back and Return of the Jedi, and it is apparently his vision for the movie that differed from Lord and Miller's. While Lord and Miller have been tremendously successful with action-comedies like 21 Jump Street, it is hard to argue with a man who has been with the Star Wars franchise for more than 30 years.
The Last Jedi, on the other hand, was written by Johnson. As writer and director of the film, of course Johnson would have a certain degree of creative freedom. And if Lucasfilm clashed with him over the project, he probably would have been gone long before production started. That means something likely would have occurred during the writing phase. What is possible, is that Kennedy and the rest of Lucasfilm were pleased with everything they saw from Johnson, and thus there was little reason to intervene.
Furthermore, J.J. Abrams, writer and director of The Force Awakens, collaborated with Johnson during the early development of The Last Jedi, assuring a smooth transition between the two films in the sequel trilogy. While Lord and Miller fans will no doubt be upset that they will not get to see a Han Solo film carried out with the directors' humorous tone, fans of Johnson's work on films like Looper should rest easy knowing The Last Jedi will very much be in line with his creative vision.
Star Wars: The Last Jedi will be released in theaters on Dec. 15.
Mic has ongoing coverage of Star Wars. Please follow our main Star Wars hub here.