Drake releases "Signs," inspired by Louis Vuitton's Paris Fashion Week collection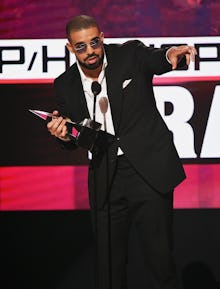 Drake ended March's playlist project More Life by saying he was "Takin' summer off, 'cause they tell me I need recovery." But he couldn't keep away from music entirely. On Thursday, the Toronto artist returned with a new single, "Signs," produced by long-time Drake collaborator Noah "40" Shebib and written specifically to premiere at Louis Vuitton's Spring-Summer 2018 show at Paris Fashion Week.
The singer announced the song Wednesday through his Instagram, writing that it had been inspired by the fashion label's new collection. The track starts around the 3:30 mark of the video below.
Louis Vuitton designer Kim Jones dubbed the Spring-Summer collection "Archipelago."
"I thought of specific islands — New Zealand, Easter Island and especially Hawaii — but I was also inspired by the idea of an island, and of travel," Jones said of his collection in a statement. "Of moving easily from place to place, and experiencing these different pockets of civilization, these different identities simultaneously."
Drake's "Signs" matches that island flair with a lightly syncopated house beat and some breezy synths. He toasts to his life of leisure, singing about day drinking and romancing a new love on a vacation through the islands: "Taking my time just gets harder to find it," he sings. "But you're playin' it right, you're playin' me perfect."
"Signs" continues a 2017 trend of artists arranging loose collaborations with luxury lines. Back in March, Frank Ocean released "Chanel," a lush, meditative R&B track that used the company's logo in a metaphor describing his non-binary view of the world: "I see both sides like Chanel." It didn't start as a formal partnership, but two days after the song dropped, Chanel picked up on the mention and included Ocean in a series of digital advertisements.
"This is simply our way of acknowledging his nod to Chanel in his latest single," a Chanel spokesperson told the Fader in an email.
It's unclear if Drake's "Signs" will hit the radio or be available for streaming anywhere. But if it does, it will likely help him extend the awe-inspiring run he has kept up on the Billboard Hot 100 for the past eight years. In May, the OVO Sound Twitter account shared the news that every week since 2009's "Best I Ever Had," Drake has had a song on the singles charts.
Here's to eight more years.
Mic has ongoing music coverage. Follow our main music hub here.