Amy Poehler and Seth Meyers revive "Really!?!" to take down Shakespeare in the Park protesters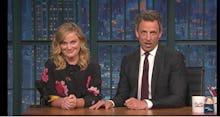 On Wednesday night's episode of Late Night With Seth Meyers, former Saturday Night Live comedians Seth Meyers and Amy Poehler teamed up for a special revival of their popular "Weekend Update" segment "Really!?! With Seth and Amy." This time around, the funny duo took jabs at pro-Trump protesters who stormed the stage in June at the the Public Theater's Shakespeare in the Park performance of Julius Caesar during the title character's famous assassination scene. The production's depiction of Caesar is widely seen as evoking President Donald Trump.
"Really, protesters? Let me get this right. You waited in line to get tickets to a play you already hated. And then you watched it for three hours. And then you ran onstage to protest — but not the president, but someone who was dressed like the president, from getting pretend-stabbed with a fake knife," an exasperated Poehler said.
Poehler continued with her roasting session: "Really? I commend you. If you want to change this country, you just can't sit around your house, yelling at the TV. You have to get out there and yell at a play. Really? You know what? You've made actors so upset, that Daniel Day-Lewis has quit now. You made Lincoln quit!"
Meyers brought some historical facts into the sketch with another casual reminder that Donald Trump lost the popular vote to Hillary Clinton. "And really, if this portrayal was offensive to anyone, it's Caesar. Caesar was beloved by the Roman Empire," he said. "To put it another way, he won the popular vote."
And it seems the pro-Trump protester jokes continued to write themselves. Meyers called out pundit Jack Posobiec, one of the protesters in the first demonstration on Friday, for his tweet about hosting a Salem witch trials play that would show Clinton being "burned at the stake." Meyers took down Posobiec's vengeance plans.
"Cool, cool, except there is no play called "The Salem Witch Trials." You're thinking of The Crucible by Arthur Miller, a play he wrote as an allegory about McCarthyism. There. Now you have three things to Google."
For the final blow, Poehler further defended Clinton. "Also, guess what, bro? You can't burn Hillary at the stake. She's already been burned twice — 2008 and 2016. My bitch is Teflon now!"
It is also important to note that Trump is not the first political figure to be portrayed in a Julius Caesar performance. In the past, productions have featured Caesars similar to other political figures including Barack Obama, Hillary Clinton and Dick Cheney.
Mic has ongoing arts coverage. Please follow our arts hub here.