'Dragon Ball FighterZ' Characters: Future Trunks added to fighting game roster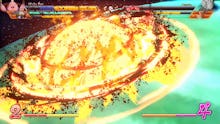 One of the coolest parts of Dragon Ball Z is when Trunks shows up from the future and just wrecks Frieza. I mean seriously, it took about 50 episodes for Goku to do it and this sword guy kills him in about 90 seconds. When you're 8 years old, it's the best thing ever.
Now that we're all adults with disposable income and a disturbing adherence to nostalgia, it's time for a video game to prey on our love of Trunks.
Dragon Ball FighterZ Characters: Trunks added to the roster
Props to Gematsu, who reported that the latest issue of Weekly Jump confirms the addition of Vegeta and Bulma's son to Arc System Works' bonkers-looking DBZ fighting game. Unfortunately, there aren't any high res screenshots or gameplay footage of Trunks just yet. We can assume his moves look as amazing as the rest of the game.
Based on the tiny image in the magazine scan Gematsu shared, it looks like it's Future Trunks from the Android and Cell Sagas of Dragon Ball Z. In case you didn't know, there are like 18 different versions of Trunks because he's involved in a lot of time travel and alternate universe nonsense. (Arc picked the right one to include in this game, of course.)
Hopefully we'll get some footage of Trunks in action soon. He's a unique fighter in that he's one of the only DBZ characters who regularly uses a weapon other than his fists, so he could be interesting in this game. Dragon Ball FighterZ is coming to PS4, Xbox One and PC in early 2018.
More news from E3 2017
For more from this year's E3, check out the new trailer for Super Mario Odyssey, the latest info on the Spider-Man game for PS4, the new Mario + Rabbids Kingdom Battle game for Nintendo Switch and our hands-on impressions of the new Xbox One X.