London police identify Makram Ali, 51, as the man killed in the Finsbury Park mosque attack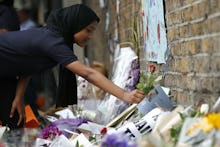 The man who died at the scene of Monday's deadly Finsbury Park mosque attack has been formally identified as 51-year-old father of six Makram Ali, the London Metropolitan Police said in a statement on Thursday.
Ali was killed and nine more people were taken to the hospital after an attacker drove a van into a crowd of worshippers as they left evening prayers at the Muslim Welfare House, a mosque and community center in London's Finsbury Park neighborhood just after midnight, local time on Monday, the BBC reported.
Ali had reportedly fallen ill just before the attack and people had gathered to help him in the street when the van drove into the crowd, the Guardian reported.
In the statement, the London Metropolitan Police said that a special post-mortem exam concluded that Ali had died of multiple injuries.
Ali had come to the U.K. from Bangladesh as a child. He was married and had four daughters, two sons and two grandchildren.
In a statement, Ali's family described him as a "quiet gentle man, he didn't get involved in political or social discussion, he instead took comfort and enjoyment spending time with his wife, children and grandchildren and he was always ready to make a funny joke when you least expected."
"We know that he had some form of collapse because of his weak leg, a condition he suffers from, before recovering, sitting up and expressing a wish to return home only to then become a victim of this horrific incident," his family said in the statement, calling the attack "an incident made only more tragic as he had only just completed his evening prayers, something he did regularly. He took great comfort in the feelings of peace his prayers provided."