'Pokémon Go' Mark of Shame: Cheaters get branded with a slash in Niantic update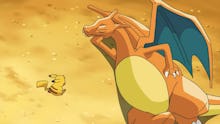 It's common knowledge that Pokémon Go has had with cheaters since the beginning of its life cycle and well into Gen 2. Niantic has allegedly put measures such as shadowbanning into effect and might have even been looking for a machine-learning engineer to provide a more permanent and effective solution for cheaters.
Now that the gym update is in progress, Niantic is apparently going all 18th century on cheaters by giving ill-gotten Pokémon marks of shame.
Pokémon Go cheating: Official Niantic account announces new anti-cheating measure on the Silph Road subreddit
In a post by an official Niantic Support account on the Silph Road subreddit, Niantic reaffirmed their commitment to stopping cheaters:
"Starting today, Pokémon caught using third-party services that circumvent normal gameplay will appear marked with a slash in the inventory and may not behave as expected."
As Ars Technica reported, we don't yet know what Pokémon not "behaving as expected" will mean. However, given that this announcement was nestled in between an update about the progress being made on gyms and raiding, it stands to reason that your ill-gotten Pokémon may not be able to get placed in gyms or participate in raids.
But will this new anti-cheating measure work? As Kotaku notes, public shaming is controversial, even in video games. But as Kotaku also notes, there's precedent for Pokémon misbehaving in in the main series when paired with an unproven trainer. Since generation 1, getting gym badges has been important for climbing to the top of the region's Pokémon League, but also because without certain badges Pokémon above a certain level would ignore your commands in battle.
This was perhaps most famously used in the anime for Ash's Charizard, which was always loafing around instead of battling whenever he brought it out for battle. As Ars Technica noted, traditional stopgaps that barred cheaters from accessing the Pokémon Go servers worked for just four days before hackers found a work-around.
With the gym update fast approaching completion, it's hard not to be rooting for Niantic to impose a rule on spoofers and botters that actually works. But only time will tell.
More Pokémon Go news, updates, tips and tricks
Check out Mic's coverage of Pokémon Go, including our breakdown of what's coming in patch 0.67.1/1.37.1, some juicy details about what's coming down the pipe for the gym update and Pokémon raids and what fans can expect to see at this summer's live event in Chicago. Additionally, you can see what's changed in the egg groups recently, why you shouldn't panic about Pokéstops getting replaced with gyms and some speculation on what a Niantic exec's comments mean for the future of the game.