Jordan Peele says don't get your hopes up for a 'Get Out' sequel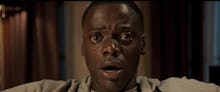 There is pretty much no filmmaker hotter right now than Jordan Peele. His debut film, Get Out, became the highest grossing movie in the United States by a black director (since surpassed by The Fate of the Furious), and has an outstanding 99% on Rotten Tomatoes from 272 reviews. Yes, that equates to just two negative reviews.
Get Out was praised for its mix of humor, horror and social commentary, especially regarding race relations, and some have gone as far to say that the film will be a contender for a number of Academy Awards next year. And with Peele's directorial debut being such a smashing success, it is hard not to wonder whether he would double down with a sequel.
Get Out was produced by Jason Blum, who is no stranger to sequels. Blum-produced films like Insidious, The Purge, Paranormal Activity and Sinister have all spawned sequels, in some cases multiple ones. But Get Out is a film that works so well as a standalone feature, that a sequel could do it a disservice. And perhaps that is why one is not being planned.
In an interview with The Hollywood Reporter, Peele was asked about his next movie, an untitled Blumhouse production with a reported $25 million budget. While Peele did not reveal much about the "social thriller," he did put to bed any notion that it could be a Get Out sequel.
"I'll tell you this, it's going to be a very different movie than Get Out," Peele said. "Don't expect a sequel."
As for further down the line, a natural assumption would be that Peele might direct a large-budget studio tentpole. After all, it is not unusual for a filmmaker to follow up a well-received indie pic with a massive franchise production.
For instance, Colin Trevorrow went from directing the small budget Safety Not Guaranteed to the worldwide hit Jurassic World. Gareth Edwards' follow-up to Monsters, a film with a reported $500,000 budget, was Godzilla, which carried a price tag north of $150 million. And the list goes on and on. Peele, though, is in no rush to board a franchise film as director, as he explained to The Hollywood Reporter:
"The most important thing for me is maintaining as much of the virtues of the process of Get Out as possible. My goal and plan is to rise in budget slowly. It doesn't make any sense for me to jump to an enormous budget when it changes the process entirely. I pinch myself and realize how lucky I am to be able to have created something. And if i can do that again, isn't that the best?"
Perhaps someday we will see what a big-budget Jordan Peele film looks like, but for now, fans should be excited for what the Get Out director comes up with next.
Mic has ongoing coverage of Movies. Please follow our main Movies hub here.