Health Care Bill: Senate GOP unveils long-awaited AHCA draft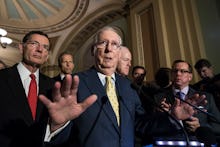 Senate Republicans released a "discussion draft" of their health care reform bill on Thursday, a plan that, if passed, would phase out Medicaid expansion, allow states to waive "Essential Health Benefits" and lower the number of people who receive tax credits to help people purchase coverage, among other things.
The bill would also cut funding to Planned Parenthood for a year, while doing away with many of the taxes created by the Affordable Care Act that hit the wealthiest tier of Americans.
In all, the bill is very similar to the version of the American Health Care Act the House passed in May, which independent, non-partisan analysts said would cause 23 million people to lose coverage.
The text of the draft legislation was released after Senate Republicans met Thursday morning in the Capitol.
Those Senate Republicans emerged from the meeting saying they hadn't had enough time to read the bill before commenting on whether they support it.
"We're all gonna go read the bill." Sen. John Kennedy (R-La.) said after emerging from the meeting.
"I need to read the bill," Sen. Bill Cassidy (R-La.) said.
Democrats, however, were quick to condemn the legislation.
"The Republicans want to give a tax break to the wealthiest Americans, those making over $200,000 a year," Senate Minority Leader Chuck Schumer (D-N.Y.) said.
Senate Majority Leader Mitch McConnell hopes to put the bill up to a vote in exactly a week without holding a single public hearing on how the legislation could impact Americans, nor any input from Senate Democrats.
McConnell hopes to have a Congressional Budget Office analysis of the bill by Tuesday, with a vote scheduled for next Thursday — just before the Senate leaves Washington for the July 4 holiday.
Democrats — and even some Republicans — have attacked the secretive way in which the Senate GOP leadership crafted the legislation, saying it doesn't give the public enough time to understand the impact of a bill that would impact more than one-sixth of the American economic spending.
"Republicans haven't held a single hearing on Trumpcare," Sen. Brian Schatz (D-Hawaii) said in an impassioned speech on the Senate floor Monday night. "No one who knows anything about health care is allowed to say anything about this bill. They are not allowed to even see it. This is a violation of the way democracy should work."
Will Drabold contributed reporting from Washington.
June 22, 2017 11:27 a.m.: This article has been updated