Janet Mock has no time for Caitlyn Jenner's Scalise shooting comments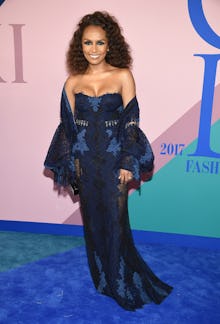 Janet Mock had some words for Caitlyn Jenner during her appearance on Chelsea Handler's Netflix talk show on Wednesday.
Jenner made a hapless joke about the recent shooting of Republican congressman Steve Scalise and other Republican representatives and staffers. The shooter, James T. Hodgkinson, was a Bernie Sanders supporter who volunteered on his presidential campaign.
Following the shooting, Jenner said, "Liberals can't even shoot straight," during a College Republican National Committee Convention. She received instant criticism for her comments.
On her show, Handler asked Mock if she feels responsible to defend Jenner as a fellow member of the trans community. She also asked if she feels Jenner is poorly representing the community. Mock did not mince her words.
"I think my community has overwhelmingly said that we don't want that," Mock said. She went on to say that Jenner's problem is that she has a very unique experience: "I'm sure she has a whole team on that mountain in Malibu that's protecting her. My community is not protected in that same way."
For Mock, it's problematic when the media refers to Jenner as a trans activist or advocate: "It's Caitlyn Jenner, who's a very specific person, with a specific set of experiences that are very moneyed, very white, and very privileged." Mock explained that Jenner's point of view doesn't reflect that of the entire community.
"She can say that on behalf of herself, but I don't think on behalf of the community," the activist said.
Jenner has yet to respond to Mock's statements or address her Scalise comment.
Mic has ongoing TV coverage. Please follow our main TV hub here.