'Star Trek: Discovery' star claps back at racist trolls: You don't "understand" 'Star Trek'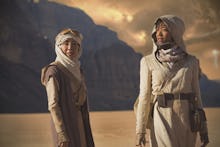 The stars of Star Trek: Discovery have stayed mum as racists attack the show's diversity, but one is finally speaking out.
Sonequa Martin-Green — the Star Trek franchise's first black female lead — has some choice words for the trolls accusing her upcoming CBS All Access show of "white genocide."
She told Entertainment Weekly:
I would encourage them to look past their opinions and social conditioning and key into what we're doing here — which is telling a story about humanity that will hopefully bring us all together. And it's hard to understand and appreciate 'Star Trek' if you don't understand and appreciate that. It's one of the foundational principles of 'Star Trek' and I feel if you miss that then you miss the legacy itself.
The original Star Trek series, which ran from 1966 to 1969, featured William Shatner and Nichelle Nichols in TV's first-ever interracial kiss. The new Discovery, which premieres on CBS and CBS All Access on Sept. 24, features Chinese-Malaysian actress Michelle Yeoh in a cast that includes Anthony Rapp playing the franchise's first openly gay character.
George Takei, who played Sulu in the original series, recently responded to critics calling the Discovery creative team — among other things — "autistic liberal faggots." Takei, who starred in Broadway's 2015 Japanese internment drama Allegiance, told MSNBC:
Today in this society, we have alien life forms that we call trolls. And these trolls carry on without knowing what they're talking about and knowing even less about the history of what they're talking about. ... Gene Roddenberry created this with the idea of finding strength in our diversity and also the delight of life in diversity.
At least the Star Trek stars understand Roddenberry's vision. Check out the trailer, which started this whole debate, below.
Mic has ongoing television coverage. Check out our main TV hub here.