Report: Juror in Bill Cosby trial says jury voted 10-2 in favor of conviction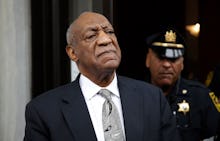 The 12-person jury for the sexual assault trial of Bill Cosby voted 10-2 to convict the comedian on the charges that he drugged and sexually assaulted Temple University staffer Andrea Constand, according to a juror who gave their account to ABC News.
According to the juror, who asked to remain anonymous out of fear of potential reprisal from the court, the jury voted 10-2 in favor of conviction on the charge that Cosby digitally penetrated Constand without her consent. On the charge that Cosby drugged Constand to impair her ability to resist his advances, the jury also voted 10-2 in favor of conviction.
In the case of each charge, the same two jurors prevented the majority of the jury from reaching the unanimous consensus it needed to convict Cosby of criminal charges. The holdouts said they were "not moving, no matter what" on the issue of Cosby's guilt, according to the juror who spoke to ABC News.
Because the jury could not reach a consensus after more than 50 hours of deliberation, Judge Steven O'Neill declared a mistrial.
"This is neither a vindication or a victory for anybody," Judge O'Neill reminded lawyers on both sides of the case.
In 2015, Cosby was charged with three counts of felony aggravated indecent assault over Constand's claim that Cosby drugged and sexually assaulted her at his home outside Philadelphia in 2004. All three counts carried the potential for a prison sentence of up to 20 years.
Cosby pleaded not guilty to the felony charges, according to ABC News.