These secret wartime tunnels were hidden beneath London for 100 years. Here's what's inside.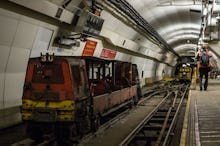 For an entire century, a network of secret tunnels hid below the streets of London.
These private passages were busy shuffling the city's parcels around for more than 75 years, but no one from the public ever had a chance to sneak a peek inside — until now.
For the first time since construction began in 1914, London's underground Mail Rail tunnels will be open to visitors as part of an exhibition with the Postal Museum. The display kicks off July 28.
According to the museum, guests can learn "the story of the people behind the railway" through an interactive exhibit featuring a battery-powered locomotive, a switch frame and other artifacts from the railroad. Visitors can also partake on a 15-minute train ride through the tunnels.
Ideas for an underground postal system sprung up as early as 1855, as a solution to combat the city's tight, congested streets. However, high construction costs halted that thought in its tracks.
In 1909, a departmental committee began studying the use of underground trains, which ultimately led to a recommendation in 1911 to build an electric postal system below the city. The Post Office Railway Bill passed in 1913, and construction on the tunnels began the next year.
The passages were completed by 1917, but the cost of materials was too high due to World War I to begin building the train tracks until 1923. In the meantime, the tunnels were used to store pieces from the National Portrait Gallery and the Tate Museum, as well as the famous Rosetta Stone.
The Mail Rail officially opened in 1927 and ran until 2003. During this time period, the postal service worked as many as 22 hours a day, operating with 220 employees and delivering more than 4 million pieces of mail each day. Hidden 70 feet below London's streets, this swift operation went largely unnoticed by city dwellers.
The underground postal service shut down in 2003 due to a decline in use, and has remained closed until now. With the new exhibit, London residents have their first opportunity to check out the covert system that kept the city functioning for decades.