'Bully 2' Leaks: Alleged concept art shows that a new game could be in development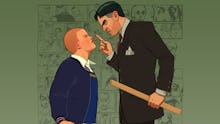 Bully was an open world game that came out for Wii, Xbox 360 and PlayStation 2. It was originally released in 2006, so you can imagine the surprise when images for a sequel were leaked 11 years later.
Check out the leaked concept art for Bully 2
Like the original, the unique art style for Bully 2 works extremely well for portraying the suburban environments of the game. You can see some basic character design drawings, and inspiration being drawn from real life famous people — like Patton Oswalt.
In this tweet, you can also see some basic drawings of what might be different maps of the game. There's also more interesting character designs for what appear to be various NPCs in the game.
We also have images of environments for various parts of town — including a run-down house, a backyard with a makeshift pool and a view of the whole neighborhood.
No details have been released about the game — nor has Rockstar confirmed or denied the legitimacy of the art. Confirmation likely won't happen, but the concept art seems pretty unique and fairly convincing. We'll have to see what Rockstar has to say.
More gaming news and updates
Check out the latest from Mic, like this essay about the sinister, subtle evils lurking in rural America that Far Cry 5 shouldn't ignore. Also, be sure to read our review of Tekken 7, an article about D.Va's influence on one Overwatch player's ideas about femininity and an analysis of gaming's racist habit of darkening villains' skin tones.