'Elder Scrolls 6' Release Date: Expect two "major games" from Bethesda before next 'Elder Scrolls'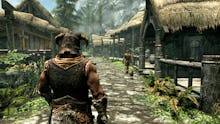 We all love Skyrim, but it's a little weird that Bethesda's E3 2017 press conference spent several minutes talking about a 6-year-old game. I think I speak for a lot of fans of Bethesda Game Studios' open world RPGs that it's about time for a new Elder Scrolls, right?
According to Bethesda executive Pete Hines, don't hold your breath for that anytime soon.
Elder Scrolls 6 "down the road," Bethesda exec says
Props to Game Zone for spotting this tidbit of info. At the nine minute mark of this E3 interview with Pete Hines, he talks about the inevitable Elder Scrolls 6.
If you've been following along, there isn't any actual news here. Hines reiterates what we've been hearing all along: there are two "major projects" to finish before Elder Scrolls 6 becomes a concern. This comes after a bogus rumor which alleged that we would find out about one of those projects at E3.
Don't expect a single player return to Tamriel anytime soon. These games are huge and take several years to develop. It would probably be bad business to put out a new, proper Elder Scrolls game while Elder Scrolls Online is as popular and well-received as it's ever been, anyway.
More news from Bethesda BE3 2017
Check out more of our coverage from the Bethesda BE3 conference, including a look at what's coming for Elder Scrolls Legends and Dishonored 2. We've even got a look at the new VR experiences for Doom and Fallout 4. But if you really want to be blown away, make sure you check out The Evil Within 2 and Wolfenstein 2: The New Colossus.