10 things you might have recently missed in the movement for social justice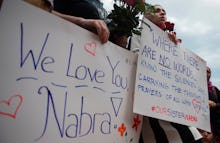 The last several days in the social justice movement was a tumultuous one to say the least.
From Charleena Lyles and Nabra Hassanen to acquittals and vigils, it hasn't been easy to keep up with the latest developments and tragedies.
To catch you up, here's a roundup of the biggest stories in The Movement since June 16.
June 16: Jeronimo Yanez, the officer who fatally shot Philando Castile, in July 2016, was acquitted of all charges. Days later, dashcam video of the incident was released to the public.
June 16: Imam Yussuf Abdi was recently placed on the no-fly list when trying to bring his family back to the United States. Now the Council on American-Islamic Relations has filed an emergency lawsuit.
June 17: On Saturday, Shaunkeyia Stephens, the mother of 15-year-old Jordan Edwards, joined a civil lawsuit against Balch Springs, Texas, and Roy Oliver, the ex-police officer who fatally shot her child.
June 17: On Saturday, a memorial committee announced they have chosen the architect behind the 9/11 memorial to create a memorial in honor of the nine victims murdered in the 2015 Charleston church shooting.
June 18: After calling 911 for a suspected burglary, Seattle police shot and killed pregnant mother Charleena Lyles. Now both protests and investigations have begun.
June 18: On Sunday, Virginia police found the remains of 17-year-old Nabra Hassanen, marking a particularly violent Ramadan for Muslim girls. In the following days, vigils across the country were held in her honor.
June 20: On Tuesday, the statue of a confederate soldier, nicknamed "Johnny Reb," was removed from Orlando's Lake Eola Park.
June 20: After numerous women came forth accusing Bill Cosby of sexual assault, The Cosby Show was completely pulled from television. Now, two black networks explain their decision to bring back the iconic sitcom.
June 21: After being charged in the shooting of Milwaukee man Sylville Smith, ex-officer Dominique Heaggan-Brown was acquitted of all charges.
June 23: The jury in the retrial of former University of Cincinnati police officer Ray Tensing was unable to reach a verdict in the 2015 fatal shooting of Samuel DuBose. On Friday, the judge declared a mistrial in the case.