GameStop Nintendo Switch Stock: Non-bundled units will be available soon. Here's how to get one.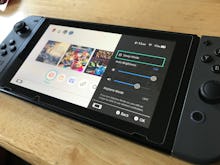 The Nintendo Switch stock situation is in constant flux, but less so at GameStop. Most retailers sell their Nintendo Switch supply in nanoseconds, but GameStop tends to have stock for slightly longer. Why? The answer is bundles. GameStop is known for trapping their Switch stock inside pricey packages — or at least they used to be.
GameStop is getting a fresh supply of Switch units, and you'll be able to buy them individually — no extra games or memory cards attached. Here's what we know.
Nintendo Switch stock: GameStop will soon let you buy the console by itself
GameStop announced that more Nintendo Switch units are on the way. "This just in, select GameStop stores across the country will be receiving additional Nintendo Switch consoles for purchase," the company said in a press release.
GameSpot reported that the hardware will come to GameStop stores next week, but according to Forbes, you may want to start checking local stores for the device right away.
The standalone Nintendo Switch units will come to select stores but, unfortunately, will only be available in person. Online, GameStop continues to sell the Switch in bundles only.
Nintendo Switch stock: How to make sure you get a console
Use GameStop's store locator to find a location near you. Then call the closest ones and scope out the situation. If they have units, it's doubtful they will let you put one on hold — expect it to be first come, first served.
If a GameStop location near you has a Switch, you'll want to run over and snag it ASAP before they run out of stock. Though if your pockets are deep enough and you plan on buying Arms anyway, the bundle route is always available to you.
Check out more Nintendo Switch news and coverage
Looking for more Nintendo Switch news? Check out how blind gamers are using the Nintendo Switch and why you can't get your Mii to look quite like you. Nintendo's left Joy-Con issue turns out to be a hardware problem — here's how to solve it. Find out how to buy a console amidst the recent restock. Learn why the Switch cartridges taste so bad. Check out our comparison photos sizing up the Switch to the Wii U GamePad (part one and part two), or find out how to make use of ethernet without the dock and the best way to get alerts when new stock arrives.