Investigators found election hackers stole voters' private data, new report says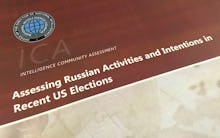 Election hackers stole thousands of voter records that included private information last year, Time reported Thursday.
"In one case, investigators found there had been a manipulation of voter data in a county database but the alterations were discovered and rectified," sources told the magazine.
The records, contained in state and local databases, included sensitive data such as partial Social Security numbers, the report said.
Time said the new information suggested breaches of the databases "more extensive than previously reported."
Congress and a special counsel are currently investigating whether Russian forces meddled in the 2016 election and whether there was any collusion involving now-President Donald Trump's campaign.
Trump has repeatedly denied any such conduct, and Time specified that none of its sources "said they had seen evidence that the stolen, private, data had actually made its way to the Trump campaign."
Still, the president has been dogged by a public perception that he has tried to impede the investigations — an impression fueled by his controversial dismissal of FBI Director James Comey, who this month testified before a Senate panel about his interactions with Trump.
U.S. intelligence authorities have publicly said that not only did Russia attempt to tip the scales in the presidential election against Democratic nominee Hillary Clinton, but that the directive came directly from Russian President Vladimir Putin.
The Thursday report said it wasn't clear whether Russia was involved in the specific case where a voter's information was altered.
However, "In Illinois, more than 90% of the nearly 90,000 records stolen by Russian state actors contained drivers license numbers, and a quarter contained the last four digits of voters' Social Security numbers," according to Ken Menzel, general counsel of the Illinois State Board of Elections, the piece said.
The new report comes in the immediate wake of Congressional hearings on the vulnerability of U.S. election systems.