'Super Mario Bros.' is reimagined in augmented reality with Microsoft's Hololens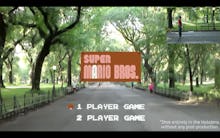 I didn't know I needed to see Super Mario Bros. in augmented reality until now. Abhishek Singh has created a short demo of Super Mario Bros. AR in Central Park, in New York City, using Microsoft's Hololens. He claims there were no post-production edits, so what you see on YouTube is what he saw during gameplay.
While the demo is impressive, it illustrates the limitations of augmented reality: the lack of verticality. In virtual reality, there are ways to simulate verticality that you can't do in augmented reality without the use of an AR-cade. An AR-cade, as was used during a Ghostbusters event in New York in 2016, allows an augmented reality experience to be a "skin" over top of the real-world obstacles. No simulation required.
It's exciting to see how far AR has come as an interactive medium, especially when coupled with Microsoft's Hololens. I can't wait to see what Singh is going to come up with for his next AR project. Metroid? Original Zelda? Keep this pixellated AR goodness coming.
More gaming news and updates
Check out the latest from Mic, like this essay about the sinister, subtle evils lurking in rural America that Far Cry 5 shouldn't ignore. Also, be sure to read our review of Tekken 7, an article about D.Va's influence on one Overwatch player's ideas about femininity and an analysis of gaming's racist habit of darkening villains' skin tones.