9 photos of Tropical Storm Cindy and its aftermath on the Gulf Coast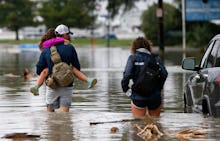 Tropical Storm Cindy downgraded to a tropical depression Thursday, but not before wreaking havoc on the Gulf Coast.
Louisiana Gov. John Bel Edwards declared a state of emergency in the state Wednesday, and New Orleans Mayor Mitch Landrieu warned residents not to attempt to drive through standing water.
USA Today reported that the Federal Emergency Management Agency planned to move 125,000 meals and 200,000 bottles of water into the state ahead of the storm. Rain is expected to continue through Friday in the region.
One fatality has been reported. A 10-year-old boy was struck by a log on an Alabama beach and killed, according to the Associated Press.
National Weather Service forecasters estimate up to 10 inches of rainfall fell in areas between southern Louisiana and the Florida panhandle, according to the AP; and the U.S. National Hurricane Center said maximum wind speeds decreased to about 40 mph on Thursday and should continue to decline.
Below are photos of Tropical Storm Cindy and its impact as it pummeled the Gulf Coast.