People with disabilities and their allies storm Sen. Mitch McConnell's office to rebuke ACA repeal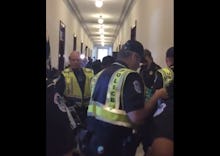 Protesters with ADAPT, a grassroots activist organization that advocates for people with disabilities and the elderly, stormed Senate Majority Leader Mitch McConnell's office on Thursday to rebuke the Senate Republicans' draft of its measure to repeal and replace the Affordable Care Act.
The draft of the Senate's plan, which was released to the public on Thursday, proposes deep cuts to Medicaid that will start in 2025.
In a press release Thursday, ADAPT argued that the Senate's draft bill would harm Americans with disabilities as well as the elderly. In some cases, ADAPT argued, the proposed cuts could prove fatal.
"The American Health Care Act caps and significantly cuts Medicaid, which will greatly reduce access to medical care... for elderly and disabled Americans who will either die or be forced into institutions," the statement from ADAPT said. "Our lives and liberty shouldn't be stolen to give a tax break to the wealthy."
Holding signs with messages like "CAPPING MEDICAID IS DEATH 4 DISABLED" and "Medicaid = Life & Liberty for Disabled Americans," protesters swarmed Sen. McConnell's office to send Senate GOP a clear message about their proposal.
According to the Associated Press, dozens of those protesters were arrested.
As police removed protesters from the scene, one reporter for ABC News noted that she noticed "blood on the floor." Protesters reportedly said that "jail is better than life without Medicaid."
June 22, 2017, 4:10 p.m.: This story has been updated.